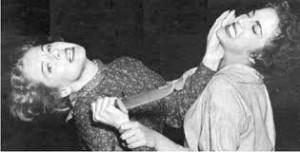 I am a woman, and yet  I seriously do not understand women.
We are so mean. Mean to other women. Nasty, bitter and vicious.
Maybe there is some weird throwback that I missed where we are fighting for the limited sperm on earth?
But why the hell do we have to be so mean about it?
Cause yes, women are mean.
And they are mostly mean to other women.
Honestly, I am getting kind of done of it. I am starting to limit my friendships in the effort of protecting myself from women who seem "nice" at the beginning and turn into psychopaths after a few months or years.
The whole "single white female" thing – yup, I get it.
By really girls? Why the hell are we attacking each other? Why are we pegging each other as the enemy? Maybe we need something to fight for side by side again? Perhaps a good bra burning will bring us all together in harmony?
Or perhaps, we will still back stab and attack each other, and gossip, or stomp on each others confidence?
I, for one, am done.
I am hanging out with boys.
Or at least women who act like boys.
Bring on the beer.
Belch