Being a parent is a pretty tough thing to do some days, but being a good parent is even harder. Sometimes the fighting and whining just gets to be too much. That's when every article and blog post we've ever read about positive parenting and good communication goes out the window.
That's when we resort to "bad parenting."
And sometimes… it gets the job done. We polled our BluntMoms cadre writers to see what their WORST bad parenting tips were, and how they used these nefarious tools to get their way.
Comparing the Kids
We say that sometimes a good old-fashioned rivalry will do more than mere positive parenting ever could. Kids are naturally competitive, so sometimes it is best just to pit them against one another and let 'er rip. One mom's husband will say to one sibling: "Look how well the other one did this," which naturally sets a fire under the other one's rear end in order to make a bigger, better, more dazzling version.
"Anything you can do I can do better" makes the world go 'round.
Making Threats
Anybody who claims they've never told a kid to behave or else Santa would bring them a lump of coal is a dirty liar. Of course Santa's wrath is a much less dire threat in the middle of summer, so we have to get creative.
One of our moms told her 5-year-old if he didn't go to sleep, mommy would be too tired to work, get fired from her job, and then they would have no money and would have to move. Yep, she did that. And it worked… 'cause no kid wants to be responsible for losing their house. DO they!?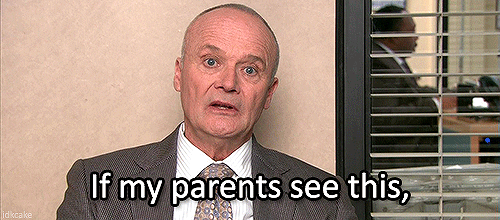 Straight Up Lying
We've lied. For good reasons. One kid wouldn't eat turkey but he would eat "giant chicken." Mommy (probably) won't go crazy if she has to listen to one more Caillou, but why risk it? We lie about the toy store being closed and that the sign on those silly mall rides actually reads "BROKEN" when we're out of pocket change.
Lying works, admit it.
Creating Fear
One of our friends told us how his five-year-old kid Lucas was going through a nasty phase. In the middle of a long car ride, at his wit's end, he came up with the ghost story of "Lucas #1" who was left on the side of the road in the great Canadian wilderness for the dingos to eat after he threw one too many tantrums. And if he didn't start behaving, they'd try for "Lucas #3."
(As hilarious as the tale was, this is pretty mean. Don't do this. Even if it is surprisingly effective, this is where big therapy bills come from later.)
Laying on the Mommy Guilt
Luckily most kids understand empathy, which means guilt may be their kryptonite. If you say, "how would you feel if mommy did that?" they often smarten up. We can't decide if that's manipulative or clever.
Regardless, guilt works—on kids AND on husbands. Use it sparingly, but apply liberally.
"I'm So Disappointed"
When kids are small, sometimes it feels like "NO" is the only thing you ever say. Fortunately some of us have good friends who tell us things like "Parental disapproval is a powerful tool. Think of all the things you didn't do in high school because of it."
Game. Changer.
Uniting Them Against a Common Enemy
One of our moms has a dad who likes to say, "Grandparents and grandkids get along so well because they have a common enemy." Sometimes the only way to make your kids get along is to give them a foe worse than each other. Enter: mom.
One mom lets them know that unless they figure out how to get along, they ALL will be punished. Suddenly the older kids take it upon themselves to entertain the youngest, knowing that his behaviour will affect them all. By banding together as a unit, against mom's EVIL, they have something in common and the arguing stops in its tracks.
Outright Bribery
Bribery is a necessary tool when all else fails. Toys, activities, and—when needed—cash.
We all try to do our best, but we're pretty sure "perfect parents" (the ones who never yell, have a sparkly clean house, and perfect angels for children) are a myth. They are unicorns and leprechauns.
It is our bad parenting moments that create the personality quirks that are going to be so appreciated in our kids once they become adults. They'll probably thank us for it one day.
At least we'll be able to enjoy karma once the grandkids are underfoot, returning the favour and making our kids crazy.