If you are considering checking into an all-inclusive for your next vacation, read our parents review of Beaches Turks and Caicos first!
The details:
Our family of 5 spent 7 days at Beaches Turks and Caicos. It was our first time there and part of our stay was to participate in the Social Media on The Sand Conference. During our conference days we had discounted accommodations.
Parents Review of Beaches Turks and Caicos: The Arrival
The journey from the WEST COAST to Turks and Caicos is a long one, and involves multiple red eye flights. Our kids being teenagers, this didn't pose to many problems as there was a good selection of airline movies and multiple stops for food.
Arriving at the airport in Turks and Caicos, you exit onto the tarmac and then stand in an (air conditioned) line for customs.  Customs wasn't an issue, but be sure to hold onto the small card they insert into your passport. You WILL need this to leave (although after a week in Turks, who will want to)
Outside of the airport Beaches Resorts provides transfers to the resort. Exit and turn LEFT and follow the sidewalk to the end. A Beaches representative will cross check your information and arrange a vehicle transport.
It is less than 20 (very hot) minutes to the resort! Not too much to see along the way except for how NARROW the island is.
Parents Review of Beaches Turks and Caicos: The Check In
Upon arrival at the resort you will be taken to your "village" check in.  Here your luggage will be taken, and you will be seated (air conditioning again!) and provided a Rum or Virgin fruit drink!  Check is done easily via iPads with no standing at the counter.  The concierge staff are attentive and even in times of panic, remain calm and solution oriented.
You will provide a credit card for incidentals, and if your card is on file can use this for any onsite purchases in the gift shop, activities, etc.
Once checked in, they will take you to your room, with luggage delivery.
Please note: Beaches resort is a TIP FREE zone. You are not to tip resort staff, and most of them will wear a reminder badge. If you experience exceptional service you CAN ask the staff member for a feedback form where you can provide online feedback on your experience.
Parents Review of Beaches Turks and Caicos :The Resort
Oh, the resort!   With 5 villages, a huge water park, pools EVERYWHERE, 21 restaurants and one the best beaches I have ever experienced. the resort is extraordinary.
We stayed in the ITALIAN village- it is central to the resort, and steps away from the beach. The Italian pool is the "activities" pool, and the beach access is right by the activities clubhouse for snorkelling, sailing and boat activities.
The French Village is tucked behind the Italian (farther from the beach) and close by to the Waterpark.
The SeaSide village and Caribbean Village are located beachside, and across the front of the resort. It is a quieter area, with smaller pools, and its own amazing selection of food.
Key West is located the other direction along the beach, with again, an amazing selection of pools and restaurants.
If you are a family travelling, you will most likely choose between the FRENCH and ITALIAN village. Personally, if there is budget to allow for an upgrade to ITALIAN, I would take it as the location is centre to everything.
Parents Review of Beaches Turks and Caicos: The Activities
When they say all-inclusive, they really mean it.  The beach activities range from Sailboats and hobicats, to paddle boards and water tricycles. Snorkelling gear is available for sign out, and I highly suggest you grab some and walk about 10 min down the beach to an AMAZING reef!  We saw turtles, puffer fish, parrot fish, and all within feet of our masks!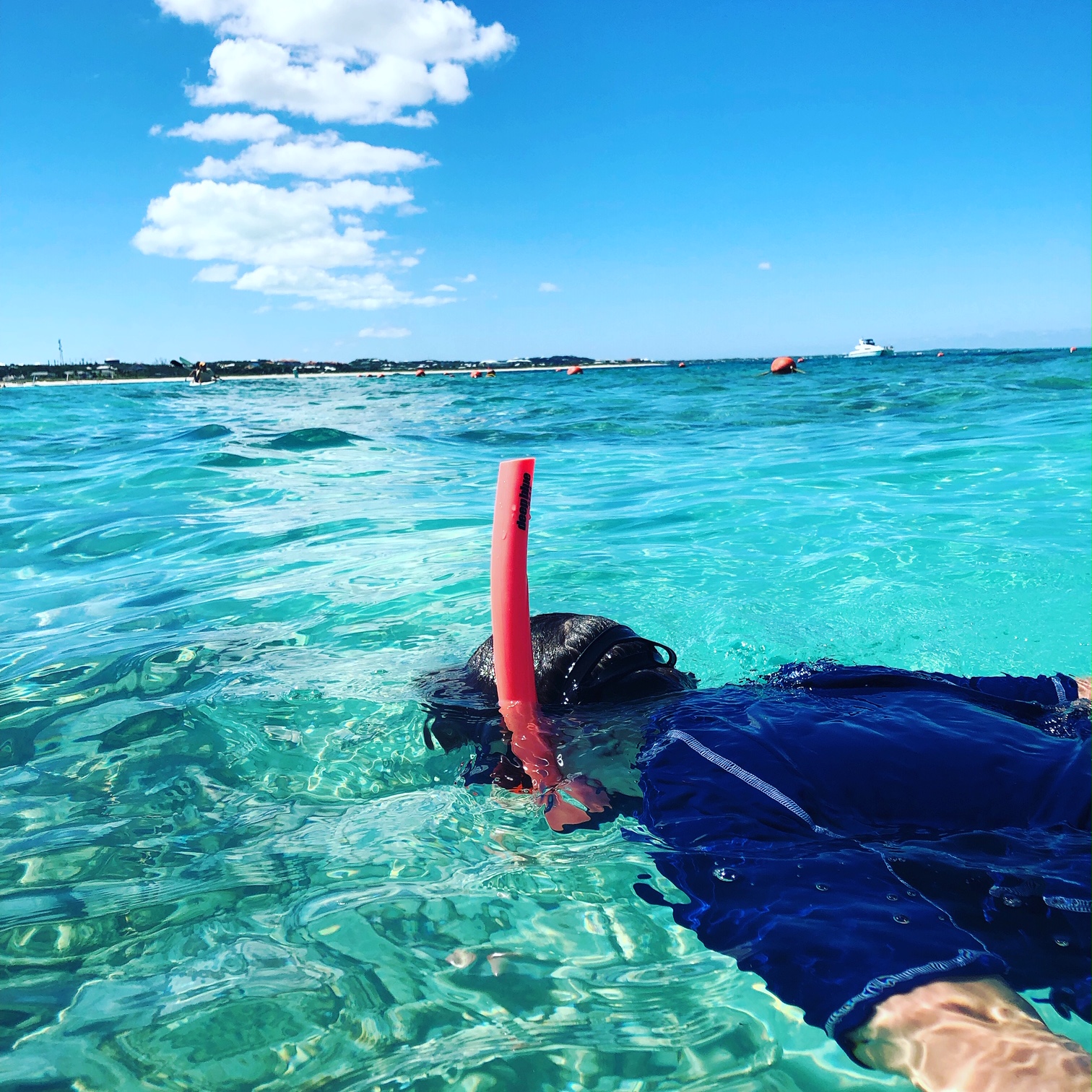 Scuba Diving is ALL INCLUSIVE, and if you aren't yet certified you can either participate in a beaches Discover scuba OR complete your PADI divers cert at the resort.  The scuba trips are frequent, and fun!
The kids water park has a surf simulator, with stand up surfing in the mornings and boogie boarding in the afternoons.  A (very patient) teacher will help you get your feet under you and the feeling of actually surfing this endless wave is pretty fantastic.
Parents Review of Beaches Turks and Caicos: The Entertainment
If you check any of the notice boards around the resort you will find the list of activities during the day or at night.  From Steel drums, to dance parties, water events in the Italian pool, to Volleyball games, the resort manages the active and quiet areas exceptionally well.  You are always able to find fun, OR find solitude and quiet if you need it.
Parents Review of Beaches Turks and Caico: The Food
With 21 eateries, it is almost impossible to eat at EVERY spot during your stay at Beaches Turks and Caicos.  Travelling with our kids had us initially nervous about fine dining, but our experience at Beaches was exceptional (check out my post on travelling with a picky eater) There is only 1 "reservation" required restaurant (Kimono's) and our longest wait was less than 10 minutes at Schooners for breakfast.
Neptunes for dinner was by far our favourite. The kids loved the location and the food was exceptional.
We tried to do the quick spots for lunch (Bobby'Ds, Dinos, etc) and focus on finer dining at night.  Whatever your tastes, Beaches has the variety and the exceptional staff will ensure that you are able to enjoy the restaurants, mostly stress free,  with your kids.
Parents Review of Beaches Turks and Caicos: Beaches Has Heart
As a Generation x mother of 3 Gen Z kids, I am part of the demographic that believes that a business that has values matters more.  A companies ethics create a sense of loyalty in me, and I was relieved to know that Beaches/Sandals HAS these values and ethics.
Beaches/Sandals has eliminated all plastic straws on their resorts. They switched to paper straws November 1st, 2018, and are doing a full single use plastic audit and overhaul over the coming months.
The Beaches staff are all trained in to support cognitive disorders, including Autism, SPD, Dementia, Alzheimers, ADHD and more. The level of training changes depending on the staff members role with guests, but this means that if you are traveling with a family member living with one of these disorders, the resort is PREPARED for you.  They are ready to assist, offer special service and support to ensure YOU get the vacation you need.
Beaches Sandals Foundation is an organization that continues to give back to the Caribbean. Through programming at the Sandals foundation and specific projects that help to rebuild learning spaces and support education and activities in the Caribbean, The foundation and the company is putting their money where their heart is and support the community that has helped them grow.
Beaches/Sandals is the ONLY privately owned all inclusive resort worldwide, which means that there is a person standing behind their mission, their actions and the decisions they make every day.  Adam Stewart is a passionate leader and Chairman of Beaches Sandals.  He lives, breathes and embodies the feeling of Beaches, and gives me confidence that the resort cares about its impact on the world, and on its guests.
What to know:
My biggest learnings, and the most important part of this parents review of Beaches Turks and Caicos, is this:
If you are going to do scuba diving, START EARLY in your stay.  Trust me, you won't ever get enough once you start
Hit the beach activities booth on DAY 1 and watch the beach flags.  Many of the watercraft can only go out in GREEN FLAG weather, and the winds can often pick up and stay awhile!
If you can, upgrade to the Italian Village. It is central, which means less walking and more eating/swimming/sleeping/enjoying.
Try the surf simulator. Even if you are old like I am, try it. It is awesome!
The iguana pool (caribbean village) is quiet, has AMAZING pizza, and a water volleyball net and is an awesome place to set up for the day (week)
Bring a hat. For everyone in the family.  All the hats.
Turks and Caicos FEELS safe, and is safe.  Compared to many other places we have been, we felt very secure both on and OFF the resort (ie walking to snorkelling reef)
Putting your money toward a company that gives back is important, and it matters.