I'm not sure if you know, but giving a book is like giving a gift twice.  Our little website here at BLUNTmoms is home to amazing authors, creators and passionate readers.  When you buy a book from a writer or publisher you give them hope, revenue and inspiration to KEEP Writing and keep entertaining !  Each book you give, gives the opportunity to open someone's mind.. to share an idea, and experience a fact or an adventure.
We encourage you to find a book from our list that is PERFECT for your friend, child, spouse, neighbour or even yourself this holiday!  Spread the love, Give a book!
Lou & the Whale of A Crime
We are exceptionally partial to this book!  The author is our VERY OWN Magnolia Ripkin!  She spends hours each week perfecting the words published on BluntMoms, and now has created this amazing character Lou! It is aimed at the 8-12 year old set and reminds us of a modern day Nancy Drew!
Not only does Magnolia/Inga write beautifully, and edits with ferocity, she is also battling terminal cancer.  And that really, really matters here folks.  So,  Grab your copy from AMAZON , be inspired by her tenacity, read her book, and figure out how you can make your impact on the people around you.
Fifteen-year-old Lou can't seem to help herself. When she sees something suspicious, she just has to break out her homemade spy gear and investigate.

After Lou's family moves to Squamish, BC, Lou spots something fishy going on right away. With the help of her clumsy dog, Rocky, and her new best friend, Oliver, she sets out to find clues and uncover the truth about what the nefarious criminals are doing.

Little does she know there is something much bigger than she expected brewing in the town of Squamish. It will take all of her bravery and smarts to figure out how to stop the evildoers. But can Lou gather the evidence and convince her friends to help her save the day?
Oxford Key Mysteries

I'm not too sure how our editorial WHIZ, Lynn Morrison wrote 4 books THIS YEAR, but she did!  The Oxford Key Mysteries start with the Murder at St Margaret, and follow lead character Natalie Payne through 3 more books. Kindle or paperback,  Grab the books on Amazon here! 
When Natalie Payne accepts the Head of Ceremonies role at the University of Oxford, her first assignment is planning the spectacular autumn gala at St Margaret College. However, her plans are dashed when she finds their famed chef dead in the kitchen.

If that discovery isn't enough, the cat following her around is actually a four-hundred-year-old wyvern. He's got news for her: Nat's a prefect, with the magic of Oxford running in her veins.

Nat's got to solve the murder, find a new chef for the gala and get to the bottom of why Oxford's magic is acting up. With the help of her wyvern, a band of Eternals and the savviest assistant who ever existed, Nat is sure to be a success.

But can she do it before St Margaret loses its connection to the magic of Oxford?

If you like cozy mysteries where ghosts walk the halls, paintings come to life, wyverns play around, and magic seems within reach, the Oxford Key Mysteries are sure to delight.
The Secret Society Of Saint Nicholas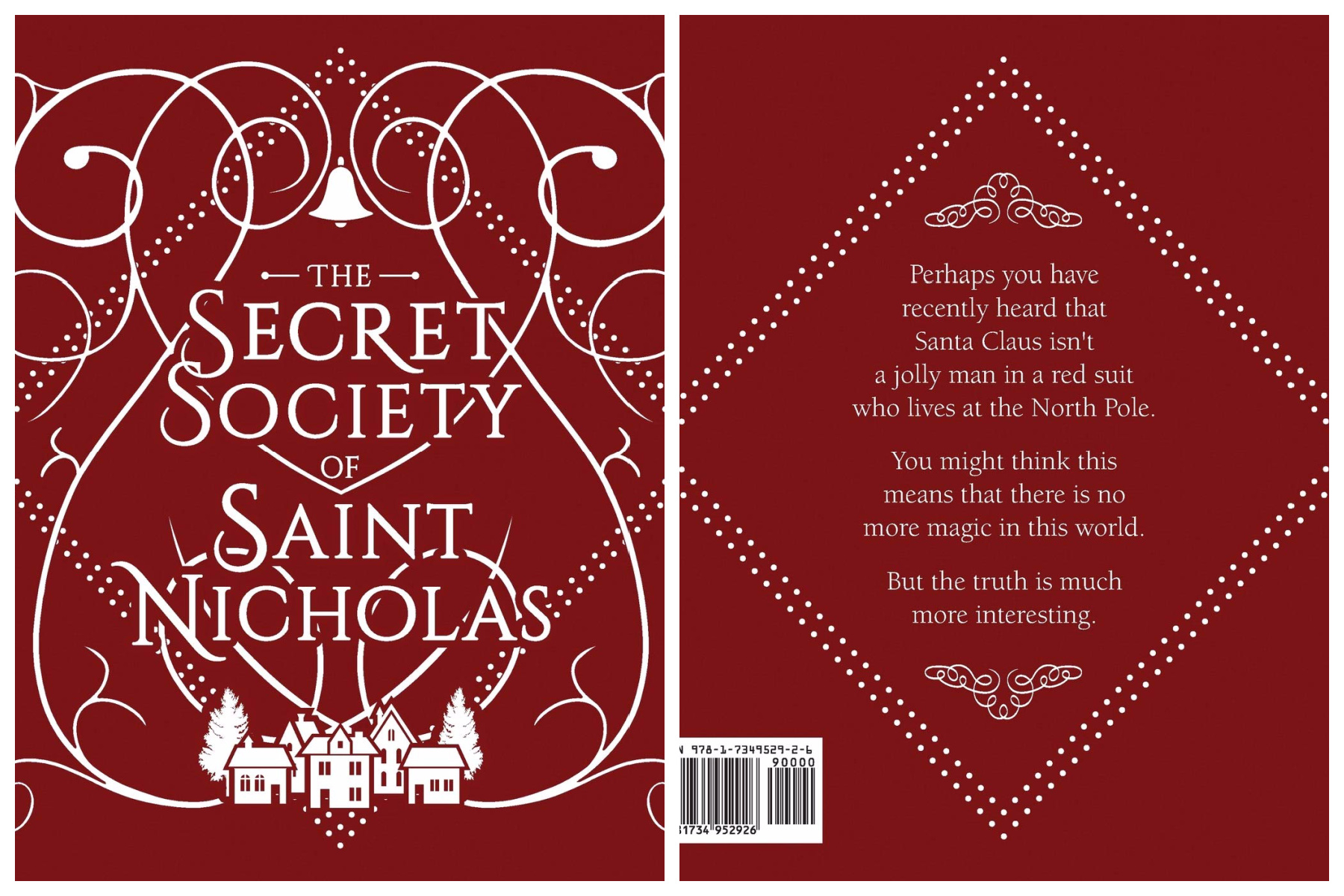 Katherine North is an amazing author.  She expertly weaves a tail and brings the reader on a journey! This is her second book, released just in time for Christmas!  I also recommend you check out her memoir Holy Heathen where she shares her life experience of being a child of a Christian Missionaries in Japan. The Secret Society of Saint Nicholas, is the book for kids who "find out" and gives them a way to keep the magic of Santa Claus alive forever.
This is a story for kids (and their parents) who are heartbroken by certain terrible information about Santa Claus. Think there's no more magic in the world? Oh, the truth is much more interesting. It's time to embrace a deeper magic.
National Geographic Collection
We are suckers for the Nat Geo.  and how they bring the WONDER of the world into our homes.  They have a  huge selection of titles, but here are some of our favourites this holiday season.
The Coolest Stuff on Earth: A Closer Look at the Weird, Wild and Wonderful (ages 8-12, hardcover, $19.99, 192 pgs)  This big, bright and photo-packed gift-worthy book digs into the details behind our planet's most magnificent marvels, epic extremes, and astonishing animals. . Did you know that dogs can shake off a pound of water in less than a second? That some sand dunes whistle and sing? That the U.S. dollar bill is full of hidden symbols related to the number 13? Our world is filled with strange, bizarre, and weird happenings. But what do they mean? WHY are they important? And what secrets are behind them? These stories and much more are revealed through cool stories, action-packed photos, fantastic infographics, and exciting Q&As with in-the-field experts. Discover the secrets of sharkskin, the mysteries behind incredible island animals, the power behind lightning, how a rare gemstone changes color, and more. Kids will be captivated by this fresh way of looking at our amazing planet. 
Space Encyclopedia, 2nd Ed (ages 8-12, hardcover, $24.99, 208 pgs) Written and illustrated by internationally recognized astronomer and former Director of Science Information and Public Outreach at the Harvard-Smithsonian Center for Astrophysics  David A. Aguilar, this is THE authoritative book about our universe, jam packed with everything kids want to know about space — from black holes to moon colonies, to recent discoveries and  amazing brand-new NASA space photography. Visually spectacular, it contains the latest on space exploration and research and breathtaking views of the universe, as captured by the latest and greatest technology, including the recent first ever image of a black hole. This complete reference contains everything about space that fascinates kids — our sun and planets including the new dwarf planets, the formation of the universe, space travel, the possibility of life beyond Earth, and more.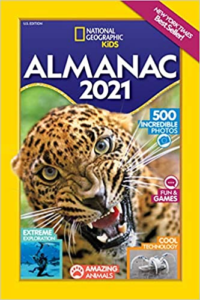 National Geographic Kids Almanac 2021  (ages 8-12, paperback, $14.99, 352 pgs) – The latest installment of the New York Times best-selling almanac features amazing animal stories, explorer profiles, and outrageous attractions that kids know and love, plus more of the incredible inventions, awesome games, and fresh challenges for curious kids who want to learn all about the world and everything that's in it!.  Tons of fun facts, crafts, activities, and fascinating features about animals, science, nature, technology, conservation, and more is why  this is the number one selling kids almanac on the planet.  There's a whole chapter full of fun and games, including activities, jokes, and comics and the colorful compilation also includes an Almanac Challenge 2021 — which inspires kids to reduce their plastic waste and encourage others to do the same.  
Nerdlet: Animals Sometimes big nerdiness comes in a small package–and this little book is an animal nerd's dream! In this little animal "Nerdlet" you'll learn about the weirdest, coolest, most amazing creatures in the animal kingdom–and what makes them so complex. Plus, you'll have some of your most burning animal questions answered, such as What's the deal with crocodile tears? And you'll meet people who get to be around animals for a living and travel to animal destinations around the world. You'll also find personality quizzes, fun facts, animal superheroes, and even a Star Wars reference … or two. 
Brain Candy 2 (ages 8-12, paperback, $8.99)-  So you know that the speed of light is fast: 229,792,458 miles per second. But what does that really mean? It means that at the speed of light, you could reach the moon in 1.3 seconds. How long to travel to the sun? Just 8 minutes. And in 4.6 hours, you could reach Pluto at 4.6 billion miles away! If you like seeing far-out facts in a new light, the second book in the colorful Brain Candy series takes a deep (and delicious) dive into numbers, fun facts, and cool trivia on all kinds of topics. It's a novel approach to feeding kids smart snackable bites about the world and is sure to be an addictive addition to the bookshelves of Weird But True! and Just Joking fans.  
When you can't Sleep
Leslie Kohare was born in Toronto, Canada where her love of children's stories, especially rhyming books, began. She followed that spark in her heart and studied English at Wilfrid Laurier University where she became inspired to write a book of her own. Leslie has since moved to British Columbia, Canada where she teaches Kindergarten and loves filling her classroom with all sorts of children's books – and has a special section dedicated to books that rhyme. Her new book "When you Can't Sleep" is there to  help kids through those restless nights.
There were nights when Leslie was young where she would wake up after having a bad dream and wasn't sure how to get back to sleep. One night, she let her mind wander and the outcome became this book. When You Can't Sleep is the inspiration of those times when you allow your body to relax, let your imagination take over and before you know it, your dreams become magical adventures.
The Ballad of Knuckles McGraw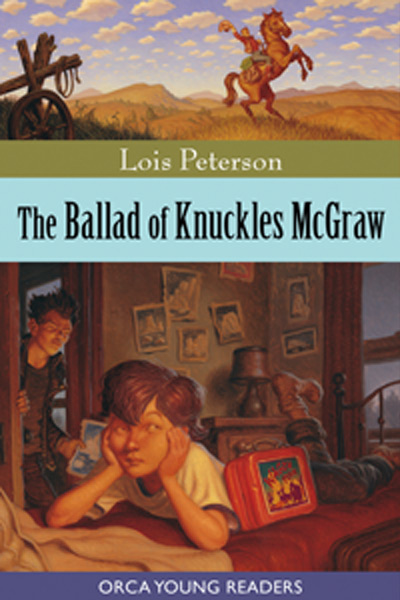 Lois Peterson is a British-born children's author and writing instructor living in Nanaimo, British Columbia.  In 2016 she retired after many years of working in public libraries in BC and London, England. Before starting to write for children, she wrote and published more than 50 short stories, articles and personal opinion pieces, as well as writing and editing organizations' newsletters and other marketing materials. The Ballad Of Knuckles McGraw is perfect for the pre-teen in your life, there to inspire adventure.
After eight-year-old Kevin Mason's mother abandons him, he takes refuge in his fantasy of becoming Knuckles McGraw, a tough cowboy roaming the plains on his legendary horse, Burlington Northern. But instead of riding the range, Kevin is stuck in a foster home with a pierced and tattooed teenager named Ice and a mute girl named Breezy. While he waits to be claimed by the father he barely remembers or the mother who left him a good-bye note in his lunchbox, Kevin (aka Knuckles McGraw) tries to communicate with Breezy, learns to get along with Ice, and discovers that memories can be as deceptive as family secrets.
Strange Things Done
ELLE WILD grew up in a dark, rambling farmhouse in the wilds of Canada where there was nothing to do but read Edgar Allan Poe and watch PBS mysteries. She is an award-winning short filmmaker and the former writer/host of the CBC radio program Wide Awake. Her short fiction has been published in Ellery Queen Magazine and her forthcoming literary short, "California Pure", won Second Place in the National Capital Writing Competition 2017. Wild's debut novel, Strange Things Done, just won "Best First Novel" presented by Kobo at the Arthur Ellis Awards 2017. Strange also won the Arthur Ellis Award 2015 for Best Unpublished First Crime Novel, as well as being shortlisted in multiple contests internationally before publishing. Strange Things Done is out now with Dundurn Press and recently made the #1 Amazon Best Seller list in Canada for Noir. In April 2017, Strange was a Winner in the Women in Film & Video Vancouver "From Our Dark Side" genre writing competition, and as such is participating in a 5-month film incubation program.
Recently returned from the U.K., Wild resides on an island in the Salish Sea named after the bones of dead whales.
As winter closes in and the roads snow over in Dawson City, Yukon, newly arrived journalist Jo Silver investigates the dubious suicide of a local politician and quickly discovers that not everything in the sleepy tourist town is what it seems. Before long, law enforcement begins treating the death as a possible murder and Jo is the prime suspect.

Strange Things Done is a top-notch thriller — a tense and stylish crime novel that explores the double themes of trust and betrayal.
We hope you will be inspired by some of our suggestions, all written by authors we know and love, and books we get a thrill out of reading.