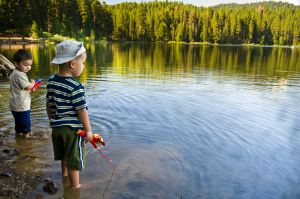 The other night my husband, son and I were at a dinner party with two other couples and their kids.  They each had two boys, so the townhouse was filled with the sounds of boy land.  Five boys ranging in age from 3.5 to 6, tearing around the house being Boba Fett, climbing on bunk beds and creating cities of Lego, pillows and farts.
It was awesome.
It is now time for the caveat.  I know I'm about to make some blanket generalizations.  Deal with it.  No, not all girls are the same, and not all boys are the same. Boys can be sensitive and love dolls and dresses and girls can climb trees and get dirty (hell…that's what I did) I get that.  But the thing with generalizations is…they come from somewhere. There is a gem of the truth in all of them.
But I digress.
As boy land was exploding around us, the three moms talked about how happy we were that we didn't have girls.  That we didn't know what to do with them.
Why…you may ask…why were we happy we had boys instead of girls?  Weren't we proud and capable women?  Girl power and all that shit? Weren't we sad we wouldn't get to do all those mother/daughter bonding things?  What about the clothes?  (I will admit…little girl clothes are SO MUCH CUTER than boy clothes..sigh…but boy toys are way better.)
Here is the thing with girls.  I am deathly afraid of them.   I still feel nervous  when I walk by a phalanx of tween girls…I swear I can hear them calling me fat, telling me I'm not cool and laughing about the fact that I don't have a boyfriend yet.  I'm forty for god's sake…I should be over that by now.  I still feel parts of my soul are irrevocably damaged by something one of my best girl friends did when I was 11. Sure, boys can be aggressive and physical but no one…and I mean no one…can get to your soul and destroy you like the words of a girl.  I also remember myself at 14.  I'm surprised my father still speaks to me.
'Wow', said my friends with girls (or without children), 'you must be tired having a boy.  All that running around and chasing and being loud  They're Just. So. Much.'
YES THEY ARE! And I love it!  Run…chase…be loud…play superheroes, trains, dinosaurs, cars  and robots. Make everything into a lightsabre (seriously…my son asked for a lightsabre for dinner last night.  To eat.  The kid has never seen Star Wars, but somehow, it is in his DNA) or pretend it has wheels. Chase, dance and scream to abandon.
Don't get me wrong…we do 'calm' things too. My son and I cook together, we love to paint, sing,  read books, and play with playdough.  We cuddle and snuggle on a regular basis. He goes to music and performance class and he is a sensitive little kid. But if he had his druthers…he'd run.  All. Day. Long.  I am not forcing him into 'boyness' (yes mother…this comment is directed at you)…it's intrinsic in him. He is all boy with extra boy with little or no help from me.  And I am so very happy about that.
Our house isn't very quiet or calm. The term 'inside voice' is used way more than it should have to be.  He doesn't play in a corner with tiny dolls (I so don't understand those) and fairy dust.  He doesn't sit and giggle with his friends and play with their hair.  He doesn't really sit. He is a whirling dervish of boy smell and joy. He also tells every single one of his friends that he loves them every day.
So…all you girl parents out there who are smiling, sniggering in to your coffee and relaxing…you may be enjoying your quiet little girl now…but just you wait.  When my son is 13 and hormonal and your daughter is 13 and hormonal…who will be laughing then?  Who will be laughing as my son stays in his room, emanating smells and only coming out to eat the whole fridge while your daughter mopes around the house, screaming about how much she hates you and everyone you know? Who will be laughing as you deal with that squadron of evil teenage girls?  Me…I'll be laughing.
Have you ever heard the adage that a parent of boys only has to worry about one dick, but a parent of girls has to worry about all of them?
Mwa ha ha ha ha…
Damn I love boy land.
Erin is a mom of a boy, a defender of boys and firm believer that anything girls can do, boys can do too.