You know you have reached a new place in life when you are really excited about household appliances. I remember thinking that if I ever got something for the house as a gift I would be disappointed. Boy was I wrong. When we were engaged, my husband and I perused the aisles of the local Target with the scanning gun in hands, dreaming of how we were going to live in our new place. We dreamed of entertaining guests while picking out dishes, and gazing lovingly at each other while shopping for irons, blenders, and of course, vacuum cleaners. While searching the aisles, there isn't anything that really catches your eye. That is, until you come across the Dyson's. Its bold colors and modern look had me at hello. My fiance (now husband) loved the simple gadgets and began to use the attachments as light sabers, attacking me with his new tool.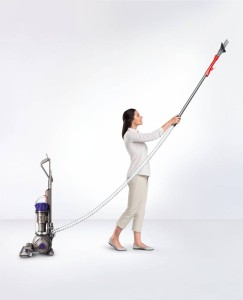 At the time, it wasn't the priority of our little 600 Sq. Ft. apartment to spend that much on a vacuum. Over 9 years of marriage, 3 houses, 2 apartments, in 2 countries we finally settled on a space that became home. One year after renovating the basement we decided to splurge on a household item as a joint gift – our beloved Dyson. We referred to him as our first child.

We now have a second born child in the brand new Dyson DC65. So far I have noticed that in comparison to its earlier model (our lovely first born) it has a much wider reach. When using it against my baseboards I was shocked to see every crumb collected right up to the wall.

The DC65 features a Self-adjusting baseplate, long-reach telescopic wand, 2x suction of any other vacuum, closer edge pick-up, built to survive 10 years, and hygienic bin emptying.

The only downside is the price. $499 for Multi-Floor, $599 for the Animal, and $649 for the Animal Complete.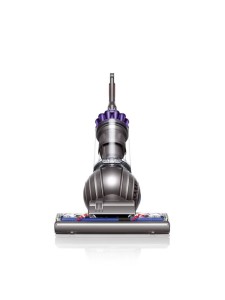 Center>
Brooke
Note: I am a Best Buy Brand Ambassador and I have been compensated in the form of a Best Buy Gift Card and/or received the product/service at a reduced price or for free. All opinions are 100% my own.