In my entire adult life, I've never had to buy a fridge. Not once. Somehow I have skated through the last 17 years of homes and apartments where a working fridge was provided (or just abandoned by owners who don't want to move an old fridge as part of the sale deal). And let me tell you, as a young adult, 98% of your fridge criteria is that it works.
I've had to painfully come to the conclusion that I'm no young adult any longer. Mostly this is because my six-year-old son tells me how ancient I am at every given opportunity.
When you have a child, it becomes second nature to put dangerous things like dishwasher pods out of reach. It's the same when you have a child with severe food allergies–your first instinct is to make things inaccessible on purpose to keep them from grabbing and using the wrong foods. So I never once thought about the fridge from my six-year-old son's standpoint… at least, not until I started to draw him maps with directions to get to the fridge when he complained about being hungry as payback for telling me that I'm old, and he retaliated by waking me up at 6:05 on a Saturday because he couldn't get the soy milk for his cereal.
That's when I realized that my old fridge, a freezer-on-the-bottom type which was perfect for keeping a toddler out of danger, was no longer appropriate for an independent young boy who could read containers and could be trusted to choose the safe foods. So, when we had the change to test out the new Frigidaire Gallery® Custom-Flex™ fridge, I wanted to make sure we did it with our whole family in mind.
I am now the proud owner of a shiny new stainless-steel Frigidaire Gallery® Custom-Flex™ Refrigerator (with freezer on top), and for all the people who might be saying stainless-steel is out, you haven't been able to enjoy the smudge-free part. So it's in, baby.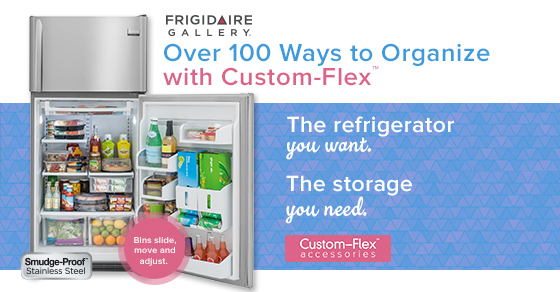 The best part is, if you're an organizational freak like I am, then this will be your jam. When I opened the fridge and looked at all the different boxes of door bins that I had, which have over 100 unique arrangement options, I retreated to spend hours mulling over the possibilities of my strategically-designed door.
When we first moved, my husband didn't understand why it took me a month after the move to stop moving things around in the kitchen. The fridge is no different. Door bins can will affect you ever day for the rest of the fridge's life. So for me, determining placement is at least as serious as weighing out your life's future career options.
No doubt anticipating every woman's joyful crisis over the ability of having 100 options for a door, Frigidare gives you some helpful pre-selected arrangement options. I spent some time looking at the photos on the boxes and the website, trying to decide if I would fit into a Young Family, Entertainer, or Active Lifestyle (BAHAHA, HA-ha… sigh). Unfortunately none of these three options was entitled "obsessive food blogger with a six-year-old with food-allergies." So I fortified myself with a glass of wine and started arranging the fridge doors myself, starting with my bottle of Riesling.
I understand few people have to make sure that a child's food doesn't get cross-contaminated by dairy like I do, but I still had fridge problems to solve, like that bottle of wine! Apparently I'm not in the minority on that one… 63% of consumers find it hard to fit tall bottles in door storage. I sure couldn't, in my old fridge. 30% of top-mount owners find the door bins and shelving difficult to move, and though my fridge was bottom-mount, I also had this problem. Sure I could remove the shelves to clean them, but they had to be returned to their original spot. 30% of people find it difficult to organize beverages in their refrigerator, and because of trying to drop the soy milk and other things to my son's level in the old fridge, I had bottles of condiments sitting every random place. And because of that, I was one of the 30% who found it difficult to organize food in their refrigerator!
That's right! Trying to accommodate my son, I was having trouble finding spots to put actual food in the old fridge.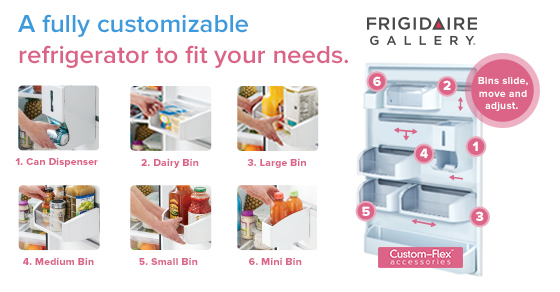 As I played with the bins in the Frigidaire Gallery Custom-Flex, once I realized how easy the bins were to move around, I got over the option overload and started to get in to it instead. I realized I didn't have to commit to just one way. Not only was this my chance to organize a fridge the way it would be useful to me–something I've never had the option of doing–I would have the freedom to move things around easily and on demand to accommodate the change in seasons or holiday plans. Pretty soon I had a place for my cooking and drinking wines (something that I've never had fit in a door), had the condiments neatly grouped, and I even had my son's margarine in the margarine drawer instead of shoved deep back on the bottom shelf.
I could still indulge in the mama-bear part of me that wants to keep my son safe without inconveniencing me as a food blogger. Dairy products like milk and cream, when I have them, can sit nestled in the area next to the wine. Brick and grated cheeses I can keep in the small pull-out drawer near the top–which is super handy. I love this drawer. If something spills, it's all contained safely until I pull it out and wash it.
For the door, there's even a canned drink caddy that my son likes to stick things that aren't cans into. It was sitting in there "empty," because I intended to fill it up next time soda was on sale for our upcoming Easter family shindig, and I clearly underestimated the problem-solving ability of a motivated six-year-old boy, because I have NO IDEA HOW HE MANAGES TO GET THEM IN THERE.
It's like one of those Mensa wooden puzzles that fortunately I know how to cheat enough to solve because the drink bin pops right out.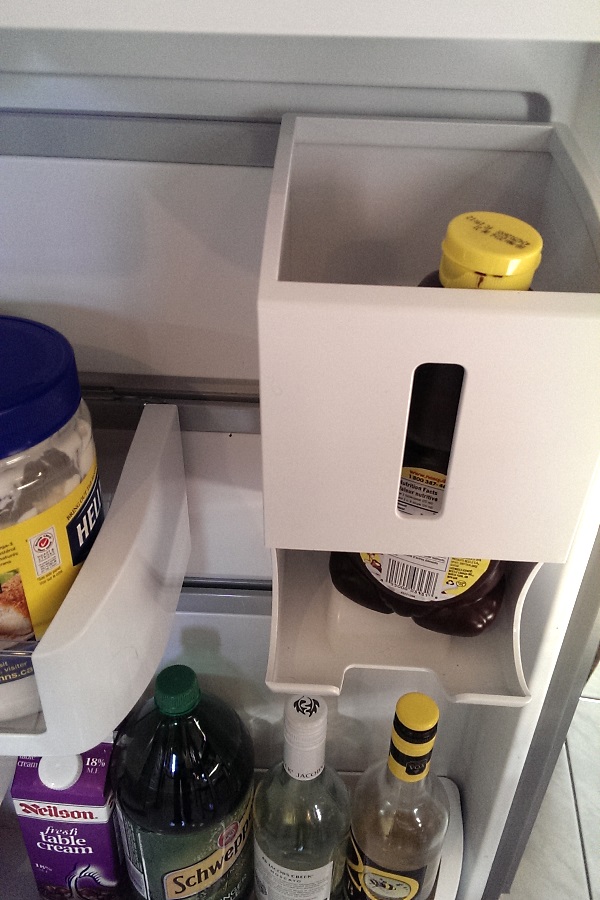 It seems like I kind of ended up hogging the door after all. But I gave over almost all the rest of the fridge to foods that were safe for my son. I filled the crisper with washed apples and proceeded to stack my precooked foods in all their happy places. And the amount of organization that I got as a result of that extra little drawer and the door shelves was astonishing.
In the end, I ended up with what I liken to term the food-safe lunch-packing and cooking fridge. I can whip up spinach and egg omelettes for breakfast without having to un-bury the spinach or the eggs. The lunch meat never gets shoved somewhere awkward to find. And I can get to all my neatly organized condiments and sauces easily and by order of importance, including the wine.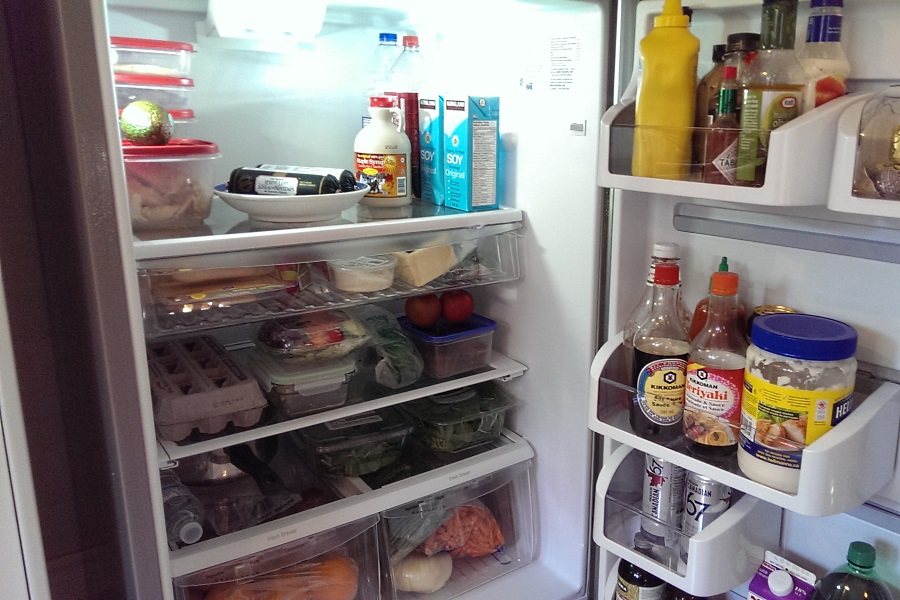 Oh, and check out the contest running to win your very own Frigidaire Gallery® Custom-Flex™ Refrigerator!
The funny thing was, once I got my fridge organized, I realized the door somewhat resembled "Active Lifestyle." I won't tell if you don't.
What configuration suits you? Let us know!
Disclosure: I am part of the Frigidaire® Canada Ambassador program with Influence Canada and I receive special perks as part of my affiliation with this group. The opinions on this blog are my own.