Generation Z (kids born between 1995-2010) is the first generation to be raised completely on technology.  These kids had a digital footprint BEFORE they were born, thanks to us, their Gen x or Millennial parents.  Their relationship with technology is akin to our "play until dark and you are called in to dinner" experiences.
Generation Z is also considered the generation with the most stress. They are literally "carrying" the weight of the world on their shoulders, growing up knowing it is up to them to bring change and solution.
When I look at my 9-year-old watching yet another YouTube Minecraft video, that is a hard concept to realize.
But, it is because of this relationship with technology that they WILL change the world, and as their Generational elders, it is something that WE need to come to terms with, not them.
As adults, we see this generation being isolated, we blame technology as the "root of the millennial" problem, without seeing the balance that the Gen Z is bringing to the mix.
Sure, Millennials, saw technology as a badge of coolness, but for Gen Z, technology is their lifestyle, and as their parents, we are the ones who need to shift our thinking and adapt our boundaries.
And we have to allow them to set boundaries and limitations for themselves.
Our son, the holder of an iPad, and user of a Mac desktop, master of the Apple TV, quick draw on the Nintendo Switch, and expert snatcher of moms iPhone, wanted a Nintendo DS.
Another piece of technology? For what purpose, we asked.  Why not a new bike (to sit beside the other one in the dusty garage) or a soccer ball (to play with when? Where?)  Why another piece of the same technology?
But, this is where the old school tech, even upgraded for 2018, isn't like the tech our kids are surrounded by.
The New Nintendo 2DS XL is a handheld, personal gaming system, old school but with top notch visuals and graphics.  It comes pre-downloaded with Mario Kart7 (mom and dads favourite) or other games, depending on the version (learn more about the options here) Its small, easy to use, and affordable.  You don't need "intense" gaming skills to login and play, although it still engages even the most serious gamer in the house.
But, that's not what my son, or me, thought was awesome.
What did we love?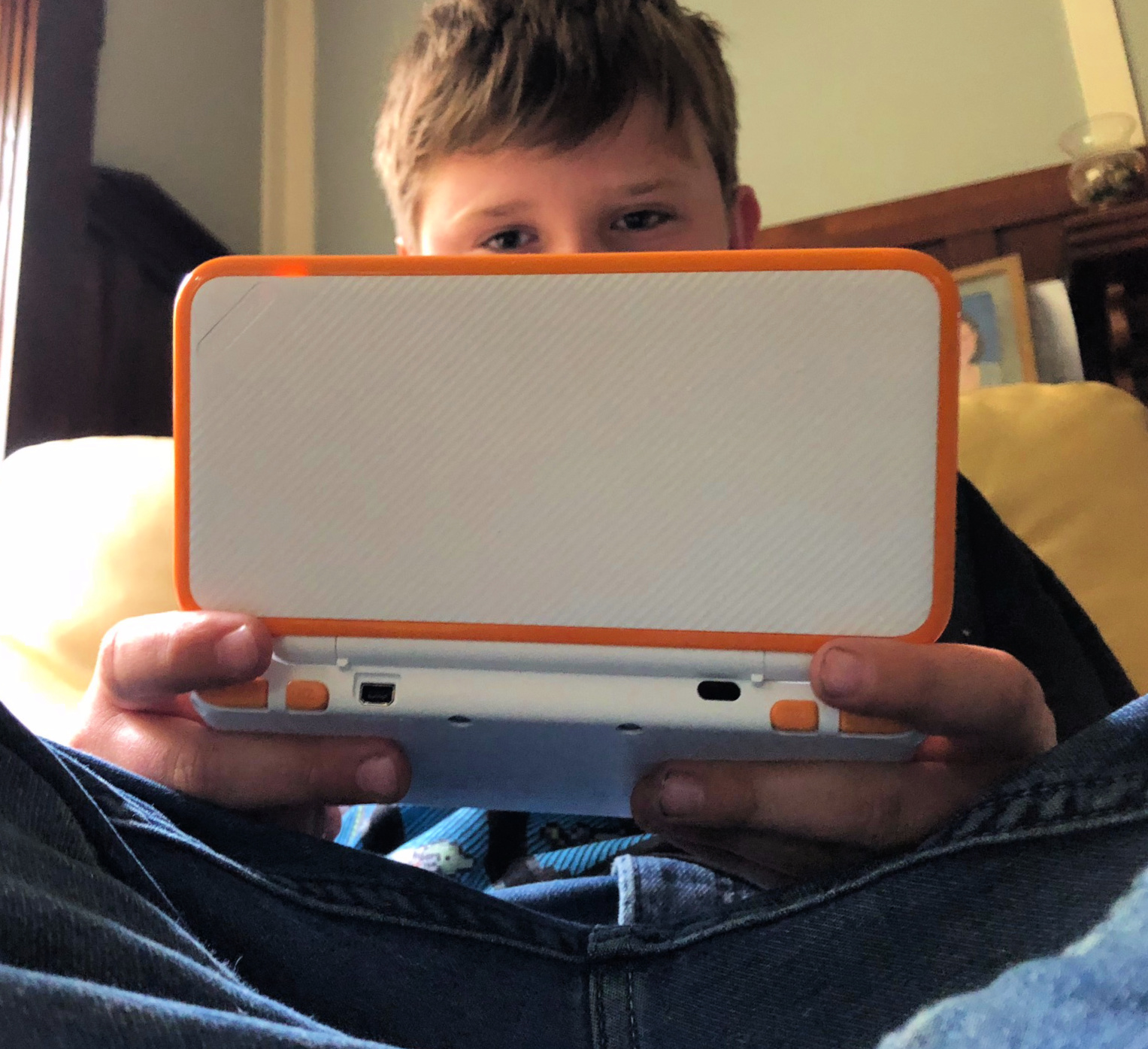 There are no pop-up ads, or in video ads for one. As technology is it contained—you turn it on, you play, and then you are done.
There are no worries about what "suggested" video is going to pop up next. For our "YouTube" generation, this is one of the biggest things that has me worried.
It is one and done.  The desire to constantly move from one app to another is gone.  You choose your game, (the New Nintendo 2DS XL has great game options from Luigi's Mansion, Super Mario 3D Land, Zelda: A Link Between Worlds, New Super Mario Bros. 2 and more) and play.
It is technology, used for fun, in the ways we know, trust and remember.  It's easy, simple and "innocent"…  The New Nintendo 2DS XLis basically the puppy dog of technology when compared to the other options.
So, yes. My kid has a New Nintendo 2DS XL.
And yes, I let him play it on the bus, or after school.
But, he doesn't get lost in it like he used to get lost in other technology.  I can pull him away, and he gets his fulfillment, either for entertainment, or "solo time" when he chooses to play.  And for this generation, that is driven, and surrounded by technology, maybe that is what we should be recognizing.
This post is in partnership with Nintendo but the images and opinions are our own.