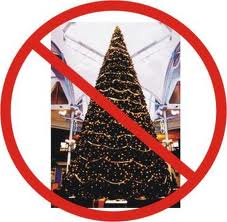 My kids have never had a Christmas tree. There, I said it. Go ahead and gather up all of your stones. For some reason my complete disinterest in decorating for the holidays makes people want to call child protective services.
I don't have anything against the holidays. I didn't suffer any tree-related trauma as a child. I am just lazy and don't see the point of spending hours decorating my house only to have to take it all down again a month later. Shouldn't there be child labor laws to prevent parents from forcing kids to spend an entire Saturday putting up decorations? Or how about a mommy labor law? Don't we do enough on the normal days?
And don't even get me started on the santa claus/easter bunny topic. Why should I spend all of my free time and a small fortune buying presents only to have some imaginary character come in and get all of the credit. I am confident that my kids are happier getting random presents throughout the year than they would be getting them all at once on a day that doesn't carry any real meaning for them.
We don't do decorations. We have never made an easter basket. My kids have never decorated valentines for their friends or dyed an easter egg. And they have never once complained or even asked why. I save up all of my energy and pull out all of the stops when it comes to the birthday party.
Perhaps I'll have to change my tune once my kids get a bit older. If they complain, I'll do my best to try and bribe my way out of it with winter ski trips and spring break at the beach. But I think I'll cross my fingers and hope that they instead see it as something cool and different and maybe even a bit liberating.
If you are one of those people holding a stone in your hand, ask yourself this. Are you really concerned that I am mistreating my kids or are you just angry because I might be a little bit right.