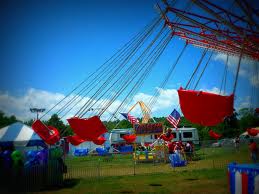 It's that time of the year again! Our town is brimming with men in uniform.
They can be seen at the coffee shop, at the leisure centre, the library and the local Memorial Park. Anywhere really that has public restrooms.
They are sweaty, tanned and kind of rough around the edges. They wear their life of adventure like a well worn hoodie.
Some of them smoke and just look cool as their  red rimmed eyes follow you.
A look from them will make your heart race and quicken your pace.
Many fathers will sigh with relief when they pull our of town.
Ah the specimen that is the CARNIE!
Lock up your daughters because we all fell in love with a man in uniform once upon a time!