I need to get my butt, (by butt I mean GUT) into gear. If one more person asks me if I am pregnant I might blow a gasket. It's so hard to respond to that, even worse to know what it really means: "You should get your gut in gear and get thyself to the gym". I just haven't felt ready to make the leap of commitment yet but I want to move more.
I shocked myself when I started to track my steps, because I hadn't realized how little I actually move around! I made this discovery when I started using Jawbone Up.
That was all it took, and now I am finally feeling the motivation to start, and am planning my way to dealing with this jiggly thing that is not a baby in my belly.
Here is how I plan to maintain my motivation.
1. Set a schedule. For me its a class, but I plan on attending at the same time each week (or days of the week) so it becomes part of the routine schedule.
2. Make it social. Sign up for a class with a friend or make a friend in class. It makes it easier to be accountable knowing that someone will notice that you aren't there.
3. Feel your best. Buy yourself a cute workout top and comfortable shoes. I also plan on rewarding myself with new Lulu Lemon clothes for certain milestones.
4. Good Music – Nothing motivates me to continue / start/ finish a great workout like good music.
5. Good Earphones – nothing is worse than earphones that hurt your ears. You cant have amazing music and painful earphones. It becomes so distracting.
Because I have tested a particular type of earphones I got while in Chicago I am going to share what I think of them, plus I will share what the company's own materials say. First and most importantly, they are the first earphones I can truly say don't hurt my ears. I am loving the Yurbuds Earphones. I think it is cool that they were designed by an Ironman Triathlete and a 24-time marathoner for comfort and fit. He should know. I won't work them as hard as a marathoner, but they have great sound and I have managed not to break them (or sit on them, much).
The newer model than I have has a new wireless feature which would be awesome. They are sweat and water resistant, plus have full track and call control with a wind-blocking microphone. The batteries last for a weeks worth of workouts and let you know with a beep and a light when you are about to run out of batteries. I use them with my bluetooth mobile speaker, but they pair with all devices.
I plan to crank the tunes, count how many steps I take when I groove the beat and try to get my gut and butt moving.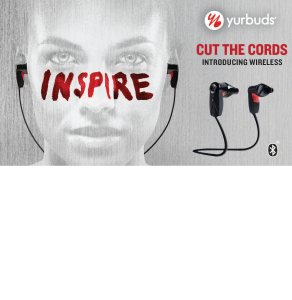 If you want to try out the Yurbuds, here is a coupon code for 20% off that you can use in store or online.
yurbuds20off
Also enjoy a $5 Best Buy Gift Card when you purchase a qualifying Health and Fitness product at a Best Buy Mobile Specialty Store, HERE. Both offers are valid 1/19/14 – 2/22/14.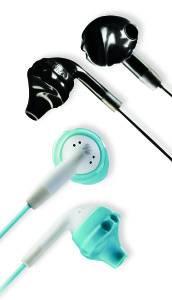 The reviewer has been compensated in the form of a Best Buy Gift Card and/or received the product/service at a reduced price or for free