What's up with all this pumpkin shit? I went into a popular grocery retailer yesterday and was overwhelmed by the amount of pumpkin products. How is it the humble squash has become so idolized? It's squash, for fuck's sake. Just eat the damn thing, carve it, and get on with it.
But here is the problem. I caved. I gave into the frenzy that is taking over our newly arrived season. I looked in my grocery cart and I shit you not, it was stocked full of all things pumpkin. Puree, bread, tea, creamer, decorative pumpkins, cookies, granola bars, seeds, pumpkin chai, and yes, even pumpkin body butter.  I have no idea how the hell it got in there.
I never planned to follow the crowd, nor give in to the peer pressure. I thought I was better than this, and frankly, I'm disappointed in my weakness. I catch myself cruising around, searching for pumpkin patches much like a hooker scouting out a promising street corner, or like singles looking for hot one night hook ups. My desire for bigger and better pumpkins grows every day.
I am officially a pumpkin whore.
After paying out of my ass for all my pumpkin porn, I came home to bake a pumpkin spice coffee cake and lovingly arrange all my newly acquired loot on the front porch. All shapes and sizes of pumpkins were neatly represented, much like an ad for a gym that claims, "Everyone is welcome."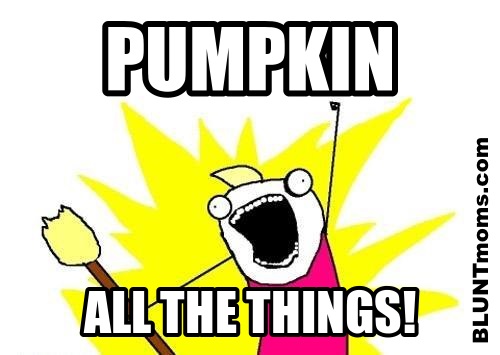 I went on to make a home-made pumpkin spice latte, because my squash fetish still wasn't satisfied. Yes, it had real pumpkin in it, unlike other lattes I know of.
I'm owning my neighborhood decor like a son of a bitch, my pimped out crib is visible from a block away. Don't even get me started talking about the back yard. As if that isn't enough, I started sewing pumpkin shaped pillows, setting up tacky little vignettes with gourds, and knitting pumpkin shaped hot pads. It's ugly as shit and I don't care. I love it. You can bet your fat baby's ass I'm gonna be working this well into spring.
If this is what addiction to pumpkin porn looks like, then I'm OK being autumn's bitch.
{This 'Best of Blunt Moms' post was first published in October 2014}