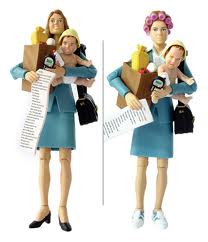 I just started working from home and its kind of tricky.  Actually that is a blatant lie.  Working from home is super tricky.
I'm like Stella tying to get her groove back. But, mainly I am trying to get my own groove started. Things keep getting in the way.
I stop working when a telemarketer calls. I mean, the phone was ringing it might have been work or a day care emergency or usually a friend inviting me for coffee.
I stop working when my computer defragmentates or whatever the hell it does, then I get up and put a load of laundry in.
I stop working when I hear the garbage truck. Damn it Zed forgot to put out the garbage, I'll just run outside and do it.
Here are the things I don't get…..
Am I supposed to shower?
Am I supposed to change out of my pajamas?
Should I do my hair and make up?
Do I really need to change my underwear?
I realize that I should probably do all 4 of those things, but it feels kind of naughty to do work in my stinky 4 day old pajama's.   Speaking of naughty I also have also put Bailey's in my coffee at 1:30 in the afternoon.
Twice.
Okay.
Thrice.
Now, don't get me wrong, I have plenty of work to do, and I am getting it done, but I could do with a lot less runs to the grocery store, license renewals, dental appointments, car washes and daycare pick ups.  It would save me waaaaaay more time to get my work done.
Now back to work.   Hmm.. the kids aren't home for 35 minutes. I think I am going to jump on the treadmill and have a long shower before I put supper in the oven.
Kyla Cornish
Blog: http://www.mommysweird.com
Twitter: @Mommyisweird