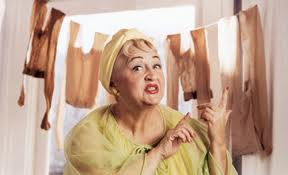 You know how everyone has that mother in law who can't wait to come over and tell you all the things you could be doing better and the things you're doing just plain wrong?
Or maybe you know someone with the dreaded MIL.
For me it's my mother, yup my mom is the first one to tell me how terrible of a mother/wife/housekeeper I am.  Because it's my mom I don't get to bitch, that's just the rule. So instead here is a letter to all the MIL and Mother's out there that think it's their business to make us better wife's and mother's:
I'm fully aware of the dust on the shelves but it just didn't make my list of things to do today.
Yes I should have started dinner sooner so that the father of my children would have some food to take to work with him.
Yes I know how lucky I am to have him, he's a wonderful father, but I assure you he will not starve as he is a big boy and will find the means to get himself a lunch.
It was more important today that I spent my time with my children as they are growing up so fast (thanks for reminding me every day) then to slave over a stove for a meal that I would be eating alone.
I've asked you before and I'll ask you again, can you please stop wrapping my baby up in all the blankets you can find, I promise the heat is on and she will not freeze to death in my care.
Really I swear.
Making more sweet potatoes because that's what he likes, will not make him eat any more. I strongly believe that when a child is hungry they will eat; making them what you think is not helping its only spoiling him to think I'm going to make my son separate meals when he refuses to eat. I won't.
Please stop telling me how tired my husband looks and how I need to try and help him rest more. I'm not exactly sure what it is you think I do all day, but I assure you it's not sleeping.
Really it's not.
Instead of focusing on all the things I should be doing better why not look around at the things I'm doing right. I have a husband that loves me (most days) and two beautiful children that are happy, healthy and generally well behaved (how well behaved are toddlers supposed to be anyway?), I have a house the bank isn't knocking on the door to take away, and some of the most amazing supportive friends.
I can't be screwing up that badly.
One day I hope to have a clean house again, I will probably never make it a goal to have regular dinner on the table but when it does happen it will be enjoyed. My kids will always come before any pile of laundry or dusty shelf. Now will you kindly back off and watch the babies while I go have a nap.