When I first became pregnant, I dreamed of the day I would meet her. I imagined her birth and pictured her being placed gently onto my chest. I couldn't wait to hold her close during those first moments but, things don't always go as planned.
Halfway through my pregnancy, I found out she had a congenital heart defect. My husband and I were overwhelmed by the news. Our journey to becoming first-time parents no longer just included Baby 101 class. We began our education in medical terminology and hospital life. We prepared. We hoped. We waited.
Two weeks before her due date, Evalyn was born. Instead of handing her to me, the NICU team whisked her off to stabilize her. I only got a brief look at her as she was rolled out of my room to the NICU. She was transferred to the Cardiac Intensive Care Unit of a children's hospital.
I remember the first time I saw Evalyn, hooked up to so many tubes and wires. A ventilator assisted her breathing, and lines measured her vitals, administered medication and monitored her heart. I still couldn't hold her. All I could do was stroke her hair and touch her tiny hand. I was so close, yet felt so far. All I wanted was to hug her, comfort her and tell her it would be ok.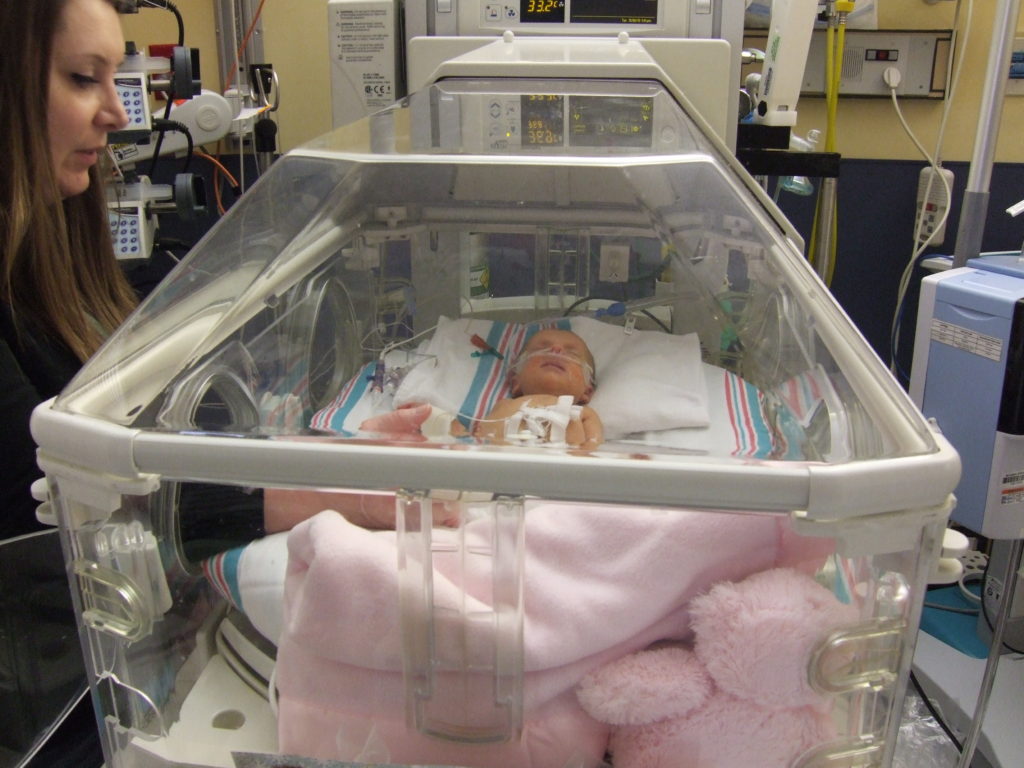 She improved daily. The breathing tube came out and lines were removed. She moved from the CICU to the regular Cardiac unit. On Day 5, our nurse asked what I had been waiting to hear.
"Would you like to hold her?"
"Yes!"
She helped me get comfortable in the rocking chair, picked up my baby, swaddled her and placed her in my arms. She moved the wires dangling from Evalyn's four-pound body out of the way and silenced beeping monitors. She whispered "Congratulations," and drew the privacy curtain.
I finally got my moment.
I cradled Evalyn and gently caressed her hair and face. I asked her softly, "So, what do you think?" She blinked, as if in acknowledgement. She was mine. I was hers. We finally felt whole.
She was hospitalized for 66 days. Time spent with her in my arms was crucial to us for connection and comfort in uncertainty. I anticipated these cuddles every minute we were apart. I think we both did.
I'm a firm believer in the power of hugs – the physical interaction and stimulation can have a positive impact on babies. So is Huggies, which is evident in their initiative, No Baby Unhugged, which offers funding to support volunteer baby hugging programs in Canadian hospitals. They want to raise awareness of the power of hugs and to help all babies get the hugs they need, even when their parents cannot be there with them. This week, in time for National Hugging Day, Huggies just launched their latest No Baby Unhugged program at Nanaimo Regional General Hospital. It's the fourth of its kind in Canada – to date, Huggies has provided $100,000 in grants to initiate and support these volunteer hugging programs in Canadian hospitals.
You can help, too. When you pledge your support for No Baby Unhugged , Huggies brand will donate $5 to the initiative to ensure all babies get the hugs they need. And in return, they will send you a FREE pack of Huggies Little Snugglers diapers and Natural Care Wipes for your newborn.
To learn more about No Baby Unhugged, please visit: nobabyunhugged.ca.
This post is brought to you by Huggies but the images and opinions are our own.
Mia Carella is a stay-at-home mom and writer who lives with her husband and their two children. She likes reading, napping and spending time with her family. She dislikes cooking, cleaning and adulting in general, but absolutely loves being a mom. Her work has been published on Scary Mommy, Babble, The Mighty and more. Read more on Mia's website, and follow her on Facebook, Twitter, Instagram and Pinterest.