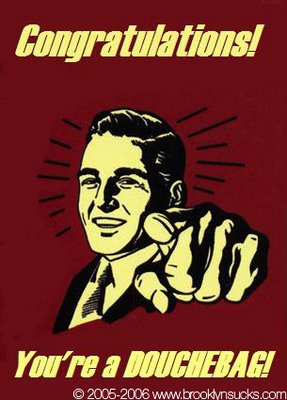 Ok, so I shouldn't generalize here because I am sure there are plenty of douchebag moms out there as well (hello..anyone seen Dance Moms?!) but for the sake of this post, its all about you DD.
Unfortunately I have had the displeasure for the last eight weeks of listening to the king of all douchebags each Saturday at my son's soccer game.  
You know the one, the dad that unleashes an incessant diatribe of negative comments, orders, grunts and snorts from the sidelines of his SIX YEAR OLD SON'S RECREATIONAL SOCCER GAME.
And, just in case you missed that last part, again, the boys are SIX YEARS OLD, they have the attention span of gnats, and for most it's their first year playing the sport…the world cup this ain't.  
The saddest part is, DD's son is the sweetest little thing who seems to accept his dad's douchey-ness as part of who he is and is largely unaffected by his behavior while it's happening, so it's up to me now to feel totally offended on his behalf.
So recently, I took over as Coach of my sons team – mostly because I want to have a positive impact on these precious little boys and instill the love of the game in them, but mostly so at some point I can drop-kick that douchebag dad right on his ass (or enlist a non-douchebag dad to do it for me).
So please, don't be a douchebag on or off the sidelines – your kids and the other parents will thank you for it.