In 1952 there were 57,628 cases of polio in the United States. In 1957, four years after mass public vaccinations began in that country, there were 5,300 reported cases of polio. By 1988 polio had all but disappeared in the US, UK, Australia and much of Europe.
Granted, I don't have degrees in science or medicine, but I am going to go out on a limb here and say that the near eradication of this disease in countries that have used aggressive vaccination polices is probably not coincidental.
In case you don't know what polio looks like, here ya go: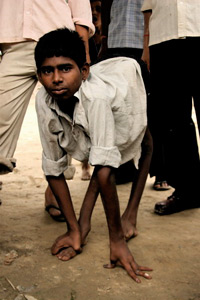 In 1962 there were over 500,000 reported cases of measles. The first measles vaccine was introduced that same year. By 1970 cases of measles had dropped to 47,000. In 2004 there were 37 cases.
And then something happened. Let's call that "something" Dr. Wakefield and Jenny McCarthy. One of them published a blatantly flawed paper about the link between vaccines (MMR to be specific) and autism. The other one went on a crusade to spread said crap. So, it is not coincidence that we suddenly saw a spike in measles and in 2008 we saw 140 cases.
Now I'd like to show you some "worst case scenario" pictures of the measles but that would involve dead and blind children and, well, you can just conjure up those images yourself.
Stop for a moment and imagine a world that is still ravaged by diseases like this. Seriously, think about it. Think about Charleston South Carolina where in one year, pre measles vaccine, 900 children died. NINE HUNDRED. CHILDREN.
We are unbelievably fortunate to be able to protect ourselves and our children from diseases that just decades ago disfigured, blinded and killed on a rather large scale.
I know this is a hot topic and there is a lot of information, a lot of it crap, out there to sift through. I support people making decisions based on logic and science. I believe in being passionate in what you believe (or don't believe). But I do not support people using fear mongering to try and defend those choices. I believe that if you have to resort to those kinds of tactics that you have probably made a questionable decision.
Here is a fact that you can't deny, no matter how many crack pot articles you show me – when vaccination rates fall epidemics follow and people (including children) get sick and/or die. When vaccination rates improve outbreaks cease. It doesn't get much simpler or more logical that this.
Now I understand that there are new vaccines being developed every day and people have concerns about the safety and effectiveness of them. That makes sense. It sometimes feels like we are blindly following the medical/scientific main stream community when we don't have all the information we need to make an informed decision. But I don't buy in to the tactics that some anti vaccinators use to defend their ways. I don't believe that the only reason vaccinations exist is to pad the pockets of pharmaceutical companies. I don't believe the herd mentality an excuse to not vaccinate is safe or even sane. Because your unvaccinated kid can still give my vaccinated kid the measles. The measles vaccine is about 95% effective so even if you don't want to admit it, your choice to not protect your own kids can kill another kid.
You are fortunate enough to have the right to vaccinate as you see fit. So if you choose not to vaccinate your children and they don't die or get permanently injured from things like the measles, polio and diphtheria I won't expect a thank you card because I'm thinking social grace is not your strong suit. But I will smile at your healthy children that I helped protect by vaccinating mine and silently say "You're welcome."