Milk. Bread. Cheese.
Milk. Bread. Cheese.
I say the words over and over in my head as I navigate the streets between my house and the nearest grocery store. I just need three little things, but given that my mom brain is more like a sieve than a cauldron, I find it helpful to repeat them nonstop for a bit.
Milk. Bread. Cheese. Oh, and peanut butter. Missy likes peanut butter after soccer. She has soccer practice today. Aww crap, I've got to do snacks. Ok Snacks. and peanut butter and bread and cheese. And juice boxes and oh look shampoo is on sale! That's a nice shade of lip balm, I'll take that too.
By the time I make it to soccer practice I've got snacks for the team, three impulse buys, bread and cheese. I don't have milk or any more charge in my cellphone. There is just simply way too much to try and keep in my head at any moment and I haven't a hope of ever getting it all right.
Even the most organized Mom will tell you things can change at the last minute, and Moms of all people can't afford to run out of power…we mean for your phone or tablet, of course! myCharge knows how important it is for you to stay charged and connected all day – and all school year – long, so they're giving the gift of portable power so you're never left in the red!
To keep you charged and connected myCharge is giving 3 lucky winners each an iPad mini with a myCharge HUB 6000 portable charger! The amazingly compact Hub 6000 features built-in cables and connectors for smartphones, tablets, e-readers and more. Get up to 27 hours of additional talk time for your devices, as well as integrated, quick-charge wall prongs. The Hub series is commonly known as the "Swiss Army Knife of portable power devices."

Additionally, 40 winners will each receive an Energy Shot compact portable charger for their smartphones that delivers an additional boost when you need it most. They come in a variety of styles and can give you up to 10 hours of talk time! (Please note, smart phone not included in giveaway).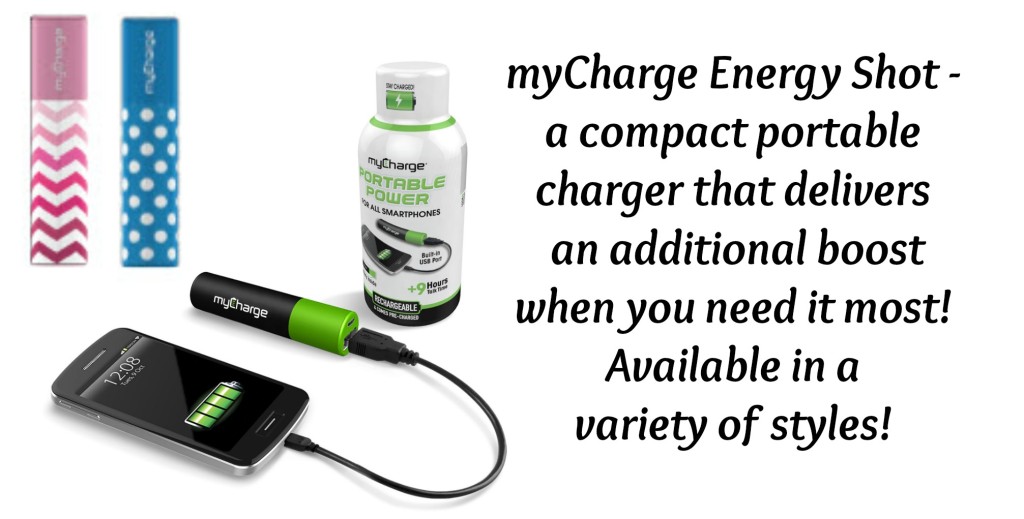 So Moms, stay out of the red this school year! myCharge is here to keep you charged and connected! For more information on products visit the myCharge website or follow them on Facebook. You can find myCharge products available at retailers such as Target and Kohl's.
Fill out the entry form below September 15, 2014 – October 15, 2014 for your chance to be one of 40 winners to receive an Energy Shot Charger (10 winners randomly selected each week) and one of 3 grand prize winners randomly selected on October 15, 2014 to receive one iPad Mini with a myCharge HUB 6000 portable charger. Entrants must be at least 18 years of age or older, must live in the United States and have a valid shipping address. See giveaway form for complete list of rules and details.
This is a sponsored post from myCharge….but as always, the opinions are our own!