The 2020 Holiday Gift Guide we all need this year,  brought to you by the clever, creative, pyjama wearing, bra-less-haven'tshavedourlegsin8months BLUNTmoms.
Our 2020 holiday guide will give you ideas of gifts for the WHOLE family. Some will be easy to mail, others are good to drop at the doorstep while maintaining a 6ft distance from your Mother-in-law (the gift that 2020 actually brought us)  No matter the person, how much you do, or don't like them, or where they live, we have an option for you.  Yes, even your cousins skeezy girlfriend who looks like an extra from Jersey Shore.  But the best part, these gifts are "Covid Bubble" friendly.  They are all going to help you stay home, and stay the heck out of the stores (online orders for the WIN)  They will also make your current home into a sanctuary, manage your stress and make you feel like this whole crazy world we live in, maybe isn't so crazy at all.
Enjoy and let the Holiday Gift Giving begin.
For the #rona aware  friend,  we have a collection of gifts to help #staysafe and #stayhome this holiday!  With bubbles growing smaller, we want to ensure we give the love to the folks that not only want to stay home, but also might need to!
Start by giving them an Attitude Clean Hands Essential Bundle  – This hands essentials set includes hand sanitizer and its 473 ml refill, as well as hand soap and its 2-liter refill, both with a delicious natural aroma. There are more than enough reasons to keep washing your hands in 2020, and at least with this bundle, their hands will be clean, smell great and stay soft!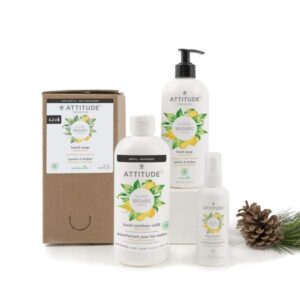 Add to the pack a Pedi-Pocket – Finally, a throw blanket that does it all! PediPocket is 6ft of plush fleece with a spacious foot pocket to keep you warm from head to toe. Plus, it's machine washable and dryer friendly. Our stay home friend will have no problem binging Netflix for days on end, staying cozy until the rona is knocked out.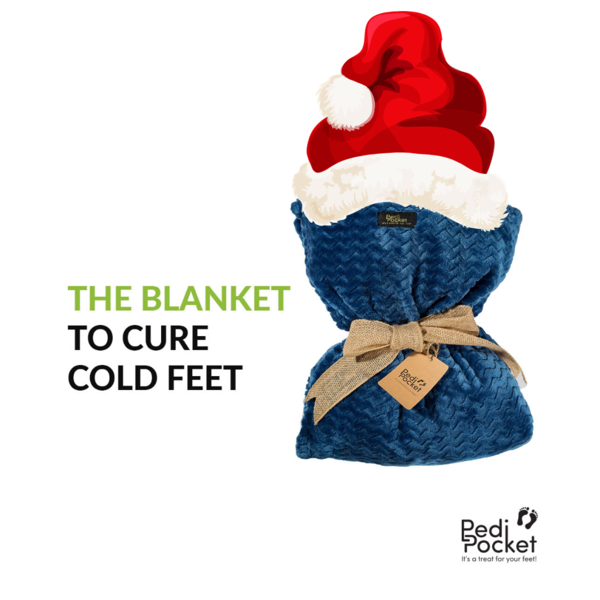 No need to get up and refill your pets food and water with the Stainless Steel Pet Fountain from PetSafe or the Smart Feed Automatic Feeder!  You can double your couch time, and your furry friends will still be happy!  While you are getting these, check out the treats and training supplies they have at PetSafe as well!  You may as well get some toys keep Fido active!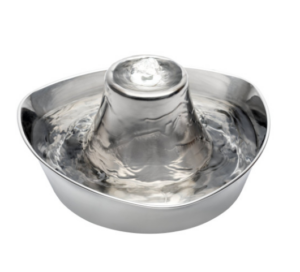 Online school getting you down?  The  ROYBI Robot – Named by TIME Magazine as one of The Best Inventions in Education,  is an AI-powered educational companion robot for children ages  and older in language learning & basic STEM. It comes with over 500 lessons, 70 categories, and over 70,000 vocabularies. Educational topics range from language, math, science, space, tech, habitats, geography, and many more specially designed to inspire children to become keen lifelong learners. ROYBI Robot is the best educational toy for homeschooling and remote learning. It makes learning fun by reducing screen time… which frees up the screen for Mom to binge watch that last season of Greys!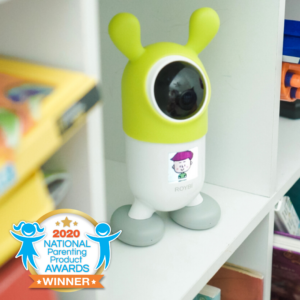 With so many people home, the chargers are all in constant use!  We love the EGGTRONIC wireless Charging stone ; beautiful chargers that are made from real marble and stone and can be used to recharge any Qi-enabled device, including the newest iPhones and Samsung phones, by simply setting it on the stone surface. The Wireless Charging Stones are available in black or white marble, travertine stone, lava stone or sandstone and each one is unique due to the natural swirls and patterns found on the stone.  They sure do fancy up a place as well… and no fiddling with those constantly breaking wire charges… the Eggtronic is your easiest charging station yet!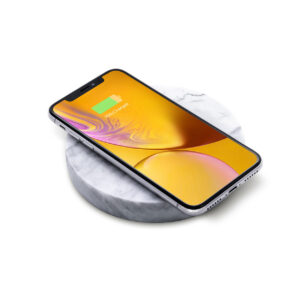 For those moments when you really want to engage the family, check out Escape Mail– players get an envelope filled with adventure delivered to their homes.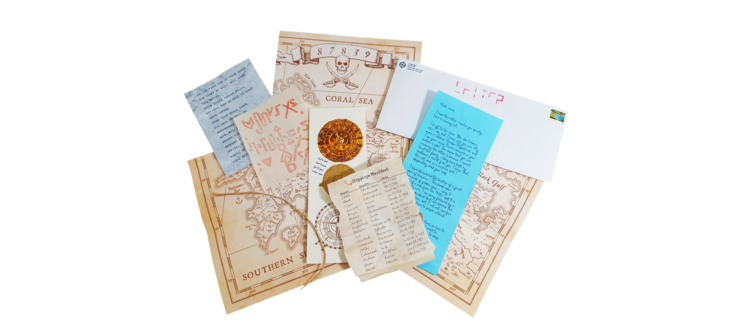 Each episode contains a thrilling storyline that includes a combination of physical manipulation, online and multimedia twists, and has tiered hints available at every stage if needed. The gripping storyline deepens over 12 episodes, giving players an immersive adventure to look forward to month after month.  There is a huge variety of experiences you can try, as singular purchases or via their subscription!
We all know half the country is suffering from insomnia, while the other hardly wants to get out of bed! Whichever half you are, make sure that your mattress is a Haven.  Sleep IS important, especially for us moms who are taking on the world…  Haven's Mattress are vegan, made from Bamboo, anti-bacterial, anti-microbial, eco-friendly and renewable materials. They don't test our products on animals, and unlike some mattress companies, we don't use animal materials, including fur, hair, leather, wool, feathers and silk.  And, they are Canadian.  And everyone wants to sleep with a Canadian, don't they 🙂
Just because we aren't hitting the holiday parties, doesn't mean we can't treat ourselves to a little bling!  Tres Colori  has a huge selection of Name or Initial jewelry for adults and kids!     Go on mommas, treat yourself!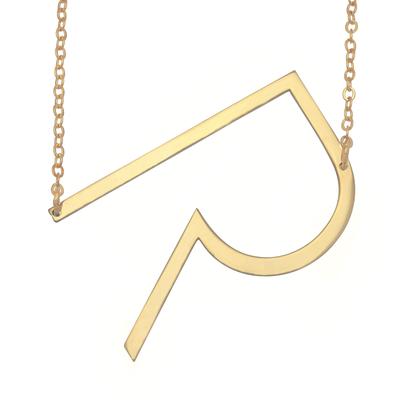 Yes, the holidays are stressful.  Yes, we know you are tired.  We get it, and we suggest HOLISTIK Wellness -Stir your way to CBD Wellness. Each of our STIKs has natural, functional ingredients that help you to live and feel your best. You can pick up a sample pack, or just focus on the ingredients you need (better sleep?  reduced stress? )  And if you are worried about the whole CBD thing, check out their awesome explanation of what it is, what it does, and where it comes from!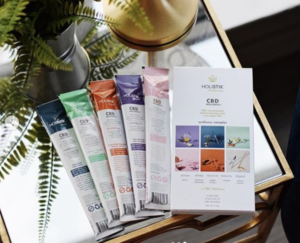 Better yet, store some of these bad boys into a little holiday Mocktail and you will be the Jolliest Bunch of Assholes this side of the nuthouse.    HOLISTIK's   helps relax the mind and body and helps you stay calm and focused…. pretty much a recipe for happiness this time of year.  The STIK's are cute, easy to slip in a stocking or gift bag, and just what you need for 2020.
After the sourdough came the photos… thousands of photos stashed on our iphone and no way to share them!  Enter  MIXtiles , with their handy App  we can pull our pics right off our phone and turn them into light weight, custom stick-on art work!  It's time we beautified our spaces… especially since we are spending so much time in them!  And yes, they really do stick to the wall, and yes, they are actually a really good quality photo print (as long as YOUR pic is good, your mixture will be as well)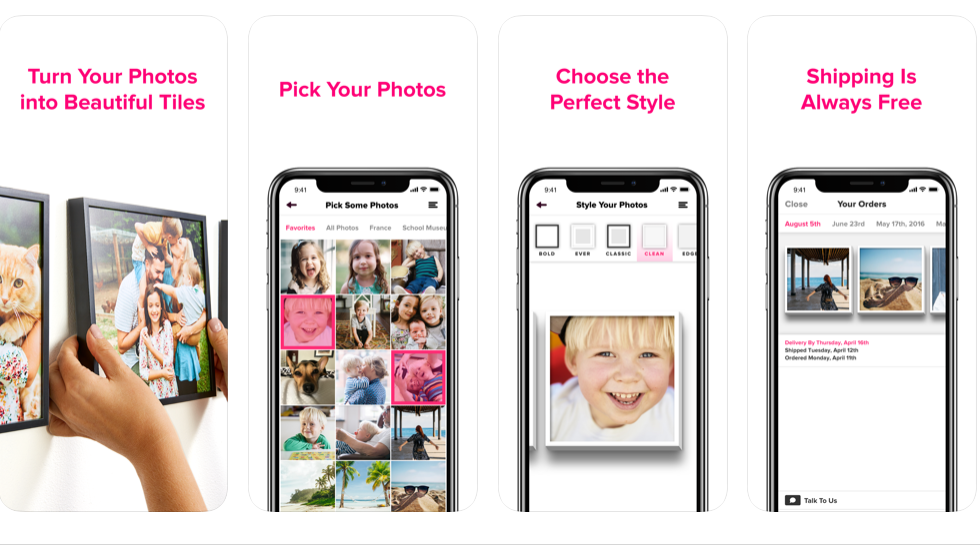 If you have a budding artisan on your hands, the KAWAII Resin & Clay books gives them step by step instructions on how to make the CUTEST little resin figures.  Great for the teen who you know is more than a TikTok dance and has the skills to create some magic in their fingers!   Easy enough to grab this book on Amazon, Chapters, Barnes & Noble, or many other online shops.   This book is not just fun to peruse, but it gives useful steps in recreating the little critters, or inspires you for your own ideas.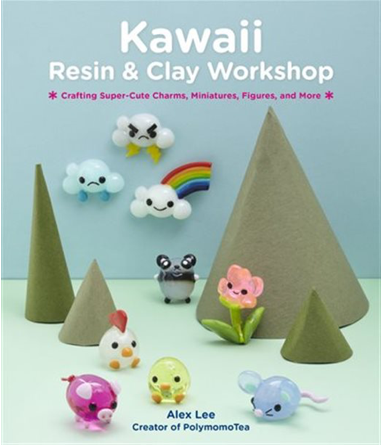 We may not be wearing pants on our work zoom calls, but upstairs we are purely professional!  We love the Isabelle Grace collection and how it adds a little something subtle.  Hand stamped, engraved, and beautiful designs … they have something for everyone.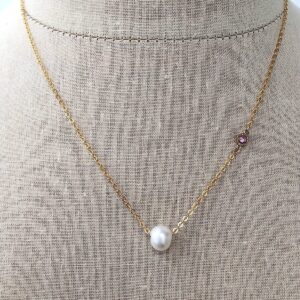 Yes, I know, its been months since you shaved your legs.  And sex?  Who has time when Animal Crossing just did another update?  But come one friends, a little love is good for the soul, and slipping your man a Manscaped Perfect Package 3.0 will certainly clean up the mood!  Manscaped gives him the right tools for the job. Proper grooming requires precision engineered tools… especially when its in those "sensitive and hard to reach areas"   And ladies, nothing says "meet me upstairs" more than ball toner and refresher!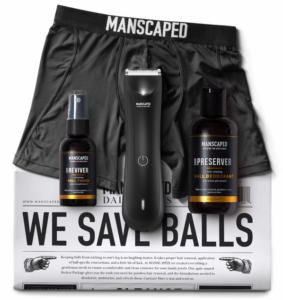 Yes, we all DO need to get grounded.  We love the story behind  the brand LOKAI,  and having this little bracelet on reminds us that everyone is going through something!
LOKAI story"  This idea for Lokai came to me when my grandfather was diagnosed with Alzheimer's. His diagnosis made me think about the highs & lows that everyone experiences. I wanted to make a product for myself and others as a reminder to stay humble through the highs and hopeful through the lows. We especially love  that for the bracelets in their cause collection, they give back 10% of net profits to charity!


And for you Die Hard Disney Fans… Yes, they have a Disney Gift collection as well!

It was hard to imagine the "covid" buying that would happen, what items would sell out … but looking back it all makes sense now!  Swimming pools, Bikes, Canning jars, and of course, our Shelters being emptied of homeless dogs and cats.  With us humans having so much "home time " on our hands, it was the perfect time to get a pet!    We LOVE these National Geographic books Fetch! A How to Speak Dog Training Guide and Pounce! A How To Speak Cat Training Guide These kid-friendly guides cover it all and include more than 40 different safe and fun training activities in each book. With tips from veterinarian Dr. Gary Weitzman, kids can take their fur-ever friends though basic training and corrective training exercises as well as teach them some paws-lively amazing acrobatics. Also included are true stories about amazing dogs and cats, overview of training tools, vet tips, fun quizzes, a how-to for making your own dog toys and tips for reading your pets's body language.  And, in case you were wondering, you CAN train a cat!:).
If your back is starting to feel the wear and tear from the couch, the Chirp Wheel will help you stretch and loosen, right from your living room. The Chirp Wheel is designed to fit perfectly between your shoulder blades, targeting the muscles that go up and down your spine. As your back is strained from the countless activities (or lack of) you do, those muscles lock up and cause even more pain. The Chirp Wheel massages those muscles, relaxing your back and relieving all of the pain.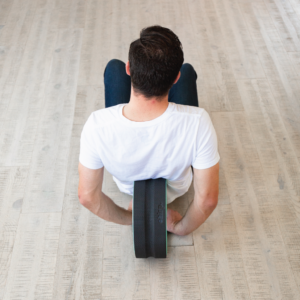 Yes, we are all tired.  Tired of marathon parenting, tired of balancing virtual school, and tired of Zoom meetings.  We can do it though, we CAN last through this, all we need is a little help!  CODI  is an AI-enabled toy that provides children with over 200 fully curated, classic songs and stories to provide developmental support outside of the classroom.  He is a wee (8.5″) little robot, with soft "skin" (is that what it is??) that can come with a fun wardrobe to make him even more appealing.  He is a gentle AI toy who's artificial intelligence learns from a child's usage patterns to become more personalized and deliver a customized experience based on age and interests. With ongoing software improvements and future content releases, Codi will grow with your child for years to come.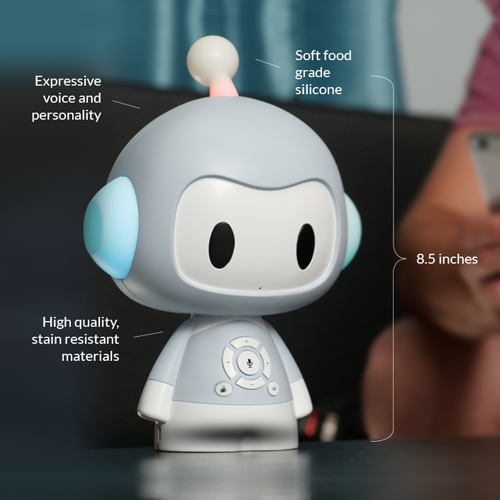 plus… he has a shark outfit…..
Do you remember the last time you drove your car?  I bet you swear you put your keys on the hook didn't you?  No problem… KeySmart Pro will help you find them! Even if it has been months since you left the house!  The location tracker connects to your phone to making find your keys as easy as an app download.  And, not more poking your jeans pockets, with the slim design your keys all tuck in tightly for that minimalist look!  Jangling keys are so 2019!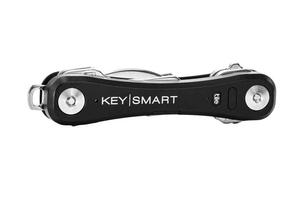 A blast from the past, Evel Knievel the man, the myth, the legend is back with this nostalgic gem. The old timers in your lockdown house will get a kick out of this  limited time production of the original 1970's version of the super-powerful wind-up gear stunt bike.  Put your phones down and have some serious fun outside with the only official vintage stunt cycle and see how far you can get it to roll, jump and flip! 
We hear you Mamas, and as always we deliver to give you more leisure time AND make you the family hero. 2020 was shit on a stick, but let's end it with cool gifts and a nice eggnog.
Happy Holidays from all the Moms who make BluntMoms your favourite blog.