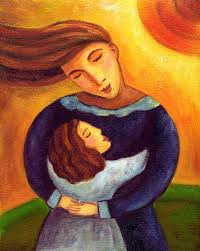 Tonight many parents had to make a hard choice. Do we explain the Boston Marathon bombings to our children, and if so, how do we do it?
It seems like just short time ago we were agonizing about how to make sense of the Newtown slaughter of small children. And now another monster from the outside world is reaching out of the radio,  tv and computer to show your child that there is such deep evil in the world.
Before I got home from work, my children's grandparent chose to tell them of the bombings. I was really angry because I hadn't processed it myself, and would have preferred to be there when they heard.
It got me to thinking, how do you tell them, and what ages should they be to hear that there is hatred so deep out there that people are willing to maim and kill innocent people? When exactly does anybody get old enough to handle that sort of information?
Some advice from my sofa tonight. I focused on the stories that rose from the ashes of destruction. The firefighters, paramedics and police who picked injured people up their arms and ran them to safety. We talked about the marathoners that immediately went to give blood, and help any way they could. We watched the outpouring of help and concern from the whole rest of the world.
I told my children that for the few crazy misguided zealots and criminals who commit massive crimes against humanity, there are millions of other good people who would sooner die than hurt another human.
I held them tight and told them I would keep them safe, and for a moment I almost believed myself.
www.magnoliaripkin.com