But I just want to know: How do you explain your boob job to your daughter? (or your son, for that matter.)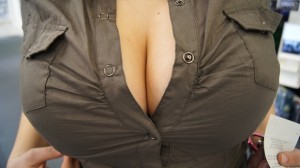 Hey, I'm pretty liberal as liberal goes.
Do whatever you want to your hair. Experiment with makeup. Pierce various body parts–multiple times if it stokes your coals. And when others bawk at tattoos because "Oh my god, imagine what that will look like when they are old & wrinkled", I say, "Who the hell cares?" & "What friggin business is it of mine?"
But I draw the line at boob jobs
….where boob jobs = enlargements, that is. I fully support reductions.
I have an acquaintance who spent her last $5000 (or maybe even "rack"-ed up her credit card) for a boob job. She swears it is THE single reason she found her Sugar Daddy and has been able to not work for the last 10 years while he "takes care of her". She doesn't have children.
I say: Fill your boots.
However, I have a couple of other female acquaintances whose husbands "invested in their bodies" early on in their relationships. Both now have daughters under 17.
So, I want to know: what do they say to your daughter when she announces she suddenly doesn't like the mole on your cheek, her ears stick out, or that she can't get a job at Earls because her boobs aren't big enough?
-Hang out with people who love you for what's in your heart & your brain?
-Pick the boy who loves nothing more than about kissing that mole on your cheek?
-Or, as my first boyfriend liked to say: Anything more than a mouthful, is a waste!