Please Note: One of our BLUNTmoms received a product to test, from that experience we were inspired to write this post, and share this contest with our readers!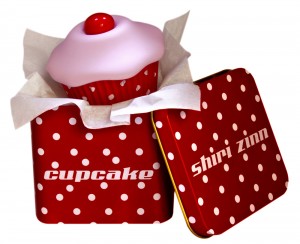 Tonight I had a date with a very important person. Sexy. Smart. Healthy. Strong. She's a busy lady – single mom, business owner, blogger – and she was looking forward to a night in after a loooooooong week. Girl was in need of a treat.
And because I know myself so well, I brought my date a little something sweet: a cupcake.
But this was not your daughter's cupcake. This was a cupcake from Shiri Zinn's infamous line of high end women's sex toys. It is sweet, discreet and looks good enough to eat. I posted a picture of it on my Facebook page asking people to guess its true identity, but my friends were stumped.
I grew up in a very conservative, repressed Catholic household. During my teenage years, I honestly believed that my love of self-pleasure would leave me blind, insane & in possession of two very hairy palms.
But I didn't care; the joy of orgasm outweighed whatever punishment I would endure in this life and the next. As a happy atheist adult, I have learned to embrace my sexuality. I like to refer to myself as "try-sexual" – sex swings, S&M, glory holes, threesomes, moresomes – I'll try anything once. I was no stranger to the world of grown up toys, but I loved the cheekiness of this adorable little tickler. I wasn't quite sure about the ergonomics since the toys I usually employed were shaped like bananas, not dessert. But I lit a candle, poured a glass of wine & vowed to keep my mind AND my legs open.
I'll spare you the details, but the cupcake was delicious, deeply satisfying and zero calories: MY kind of treat. And it left me thinking of all of the other avenues of pleasure I could explore on my own and with my partner. After a giddy trip to the bloomenjoyyourself.com website, I think I'm ready to move onto more advanced sexual studies, like Bloom Essentials 301. I'll be getting a PhD in pleasing me
because as Oscar Wilde said "to love oneself is the beginning of a lifelong romance."
And I guarantee that spending an evening alone with a cupcake is much more pleasurable than trying to learn how to twerk. Here's to romance!
Just in time for Mother's Day, BloomEnjoyYourself.com has launched providing the first-ever chic, sophisticated and contemporary online sexuality boutique that celebrates sexual intimacy,  exploration and learning.  Bloom has been designed to help women "bloom" – by learning about and loving their bodies and themselves through becoming informed, and simply enjoying themselves.
The exclusive Bloom Essentials Sets are also featured on the site to enhance women's voyages of erotic discovery. Whether a woman is new to exploring luxury pleasure toys or wanting something new to add to existing collections, Bloom Essentials Sets are curated to be a highly satisfying combination of pleasure and luxury.
And because we want you to love yourself, BLUNTmoms have partnered with bloom to provide one (lucky, lucky) reader with a Bloom Essentials 101 kit.  And don't worry, we want you to embrace your sexuality and enjoy your time with the amazing products from Bloom (without the neighbors looking over the fence) so delivery is discreet !  Enter today!
Please Note: One of our BLUNTmoms received a product to test, from that experience we were inspired to write this post, and share this contest with our readers!