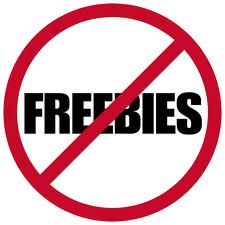 No I will not promote you for free
This may come as a surprise to some of the readers of my blog, but I put a lot of time and effort into writing every post. Why? Because blogging happens to be a crap ton of work.
Let me tell you a little bit about how much time it takes to keep up a blog. Each post runs 400-500 words and takes me an hour to type and edit. Plus another couple of hours brainstorming the topic beforehand and figuring out funny ways I can approach it. Granted, I can (and usually) do other things while the hamster is running on the wheel in my head…like grocery shopping, "watching" the kids, driving across town, etc. But that time I spend thinking and working on my blog posts is time that I cannot spend doing something else (like imagining myself on a deserted island with Ryan Gosling…but I digress).
And you can't just blog. I have to be active on social media, and by active, I mean I have to post up stuff that makes people want to engage with me. If you are trying to gain a reputation as someone who is smart, creative and original, that means that you have to create most of your posts yourself and not just share. Again, lots and lots of work. I spend time creating memes and coming up with little short texts. I have to comment on other blogs and posts and build relationships. And let's not forget all of the time I spend seeing what other similar bloggers are doing so that I don't inadvertently copy them. It is fun, but it is also work that takes time.
I say all of this so that you can understand my complete frustration with major corporate brands that ask for free advertising on my blog. I have worked in marketing for a Fortune 200 company. I know what their marketing budgets look like. There is absolutely no reason why they should not compensate me for promoting their brand. I am not asking for the world, oftentimes free products would be more than enough.
The worst part is that these brands don't approach the big blogs. No, they go after the small up and coming bloggers who are just starting to make a name for themselves. In my case, as soon as I finished in the Top 50 in a Circle of Moms competition and became a finalist in the Bloggies, I started getting "offers" from big brands. The offers would go like this, "Dear Lynn, we here at ACME Corp would like to offer your readers a chance to enter a giveaway for a basket of toys. All you have to do it put this code in a blog post and then we will handle the rest. Won't this be fun!"
They completely gloss over the fact that if I don't want to alienate all of my readers and/or devalue my blog, I am going to have to write a custom post about their products and then promote it via social media. Lots of work for me, lots of benefit for them. They assume that I don't know my own worth and am going to be overjoyed to have an opportunity to be a corporate mouthpiece. So what happens when you push back and ask for compensation? You never hear from them again.
Blogger moms, can we please all band together and tell these corporations that we are not going to work for them for free? We already do enough shitwork without compensation (sometime literally) and lining the pockets of Mr. Shareholder is not going to be on our To Do lists. If we all stand together in proclaiming our value, we will be impossible to ignore.
About the Author, Lynn Morrison
I am a 35 year old mother of two pepto-bismol colored princesses who sometimes speak the same language as I do. I spend my days writing helpful advice about how to be a successful expat parent in the Netherlands and my nights writing what I really think about life, the universe and everything (and if you got that reference then you are officially a dork like me) on The Nomad Mom Diary. Oh, and sometimes I talk to my husband and kids. But only when I am stuck for ideas.
I am so excited to write for BLUNTMoms. It is good to know that I am not only one bashing my head against the side of a bunch of Dutch row houses or contemplating launching my screaming child into a canal.