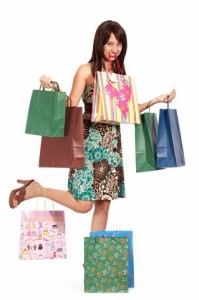 I'm pretty new to this blogging world.  But I have learned a lot of lessons, fast. You have to learn fast in this ever changing, highly competitive blog culture if you have any hope of surviving.
One of the early lessons I learned is that conference swag is important to bloggers.  Like ridiculously important. If you ask 10 bloggers why conference A is better than conference B at least 7 of them will tell you it's because conference A has a shit load of cool swag.
Here's the thing.  I don't care about swag.  In fact, I think it's pretty over the top and ridiculous.  I don't believe it adds any value to a conference and I don't want to lug that crap around all day.  I'm there to learn, to network, even have some fun.  I'm not there for free shit that I don't really need or want.
Here's an idea.  Why don't we ask sponsors to donate all of the sweet free stuff they were going to give us to charity?  That is the kind of brand that I want to work with. I went to one conference where, among the bag loads of crap, they gave everyone a loaf of bread.  Seriously?  Nobody at that conference needed a loaf of bread. I sure as hell wasn't going to take one and try and stuff it in my suitcase for my journey home.  I'm pretty sure the local food bank, and its patrons, would have been pretty stoked to get all of that free bread.
Yes I understand the importance of promoting your brand and your products.  I have been on the other side.  I get it.  But does it really have to be so extravagant? If you have to take a spare suitcase to a conference in order to bring home your swag then you need to give your head a shake.  A hard shake. A brain rattling, why can't I see what it so terribly wrong with this kind of shake.