I love taking photos of my children, and I especially go all out capturing every moment of our vacations. Even camping – which does not in any way count as a vacation by the way. But I get home from the trip, and the photos find some dark corner of my CPU to curl up in, neglected and forgotten. The lucky ones get uploaded to Facebook or Instagram, but even they get lost before long because my Facebook albums are as disorganized as my pantry. Plus my kids can't look at them on Facebook. How am I supposed to constantly remind them how lucky they are that we took them places for quality family time without sufficient props?
I need to get them into albums. And while I would need a separate room in my home dedicated to photo storage if I printed ALL of the twenty thousand photos I have taken, it would be nice to have albums for important events, or vacations, or even one for each year. The possibilities are endless.
Maggie, my daughter with autism, loves to steal my phone and look through the photos on the camera roll. Looking at pictures of herself and the rest of the family is one of her favourite things to do. I think it would be a lot more enjoyable for her though without me flailing and yelling "Don't delete them!" as I tackle her and pry the phone out of her hand. I tend to ruin the zen of the moment. She would love having photo books to look through that are her very own.
My children (8 and 10) would probably like to have baby books as well, but let's just start with the photo albums – I'm not Martha Stewart!
The good news is that SmileBooks has come to Canada at SmileBooks.ca. They have products such as photo books, canvases, photo gifts and greeting cards to help you show off your favourite photos!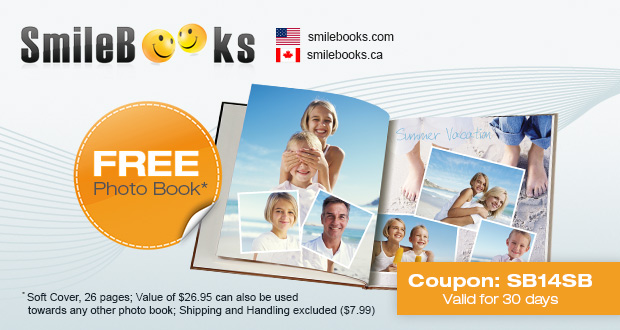 To celebrate the Canadian launch, Smilebooks.ca is giving each of you a FREE 8×8 soft cover photo book (shipping of $7.99 is extra). Enter coupon code SB14SB to claim your free book, and comment below telling us what you plan to put in your album.
I'm going to make a book of all our camping trips to remind myself how much the kids enjoy it, and that it's worth it. And I may also include a photo of the tent instructions since we can never find them when it's time to set-up camp. Somehow our tent always ends up inside-out or upside down. We need a picture of that on a mug!
For our U.S. readers you can continue getting great service at SmileBooks.com