Ahhh, summer! The season of swim team and summer camps. Last year, my five-year-old lost one, just one, of her expensive water shoes at camp, rendering the other one useless. I was so mad that I almost made her wear that one shoe with a mismatched sneaker just to make a point. The pool is another place kids' clothes and accessories disappear. My other daughter left her Costco beach towel at the pool, and because the rest of the world had the exact same towel, we spent a good 10 minutes staring into the abyss of the musty lost and found, trying to decide which one was hers (we chose the one that smelled the least disgusting). Don't get me started on the lost-and-found at her school. Danger Zone. We need labels.
The kid-junk we tote around requires Ikea-sized bags and dually trucks with extended beds. Sunscreen, goggles, lunch boxes, and water bottles along with changes of clothes and hats that get totally crushed in the tangled mass of stuff. Our family has an additional accessory that is more important than any fancy pair of shoes – she has anaphylaxis, deathly allergic to nuts and so her allergy kit goes wherever she goes and if it were to get lost, I would freak out. The bottom line is that kids suck at keeping track of their crap and a parent can only do so much to keep it all together.
I have been given the opportunity to do a Emily Press Labels review, which are personalized labels that stick to practically every surface known to man. When our order arrived, my daughter squealed with delight and went to work sticking labels to her stuff. She started with her Crocs, moved on to her lunchbox, and then, the EpiPen. She put every single one on totally crooked which made my armpits sweat, but when I put a few on myself, they were also crooked, so I guess we both suck at label-sticking. These babies stick… like… Vulcan Death Grip stick, so once that sucker is on there, it's on to stay.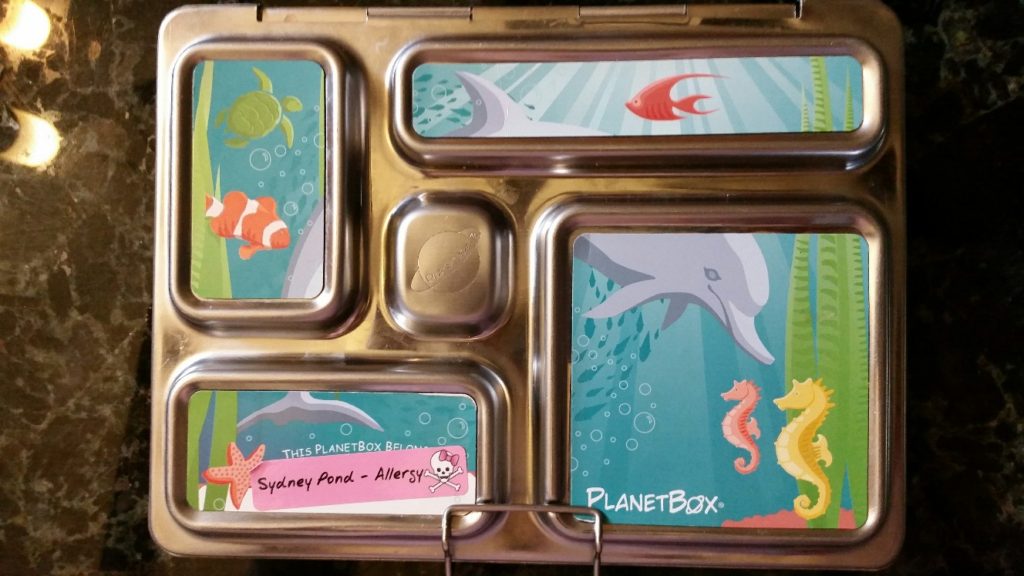 I put her full name on the label in addition to the word 'allergy' because I'm constantly afraid people won't see the medical ID she wears, so I love that these labels bring extra attention to her allergy. They do have labels that are allergy-specific and I'll be getting a pack of these as well.
The design she chose is pink with a skull and crossbones that has a freaking crown of hearts on the top of its head! Perfectly suited for her wild personality. There are a ton of other options to choose from and when I order our next batch for my other daughter, I know without even asking, she'll pick the Owl design (she always chooses Owls). We chose the Camp label pack which came with 120 waterproof labels of different shapes and sizes. Brilliant! We'll never lose another shoe again, unless it falls off in the river and ends up in the Gulf of Mexico.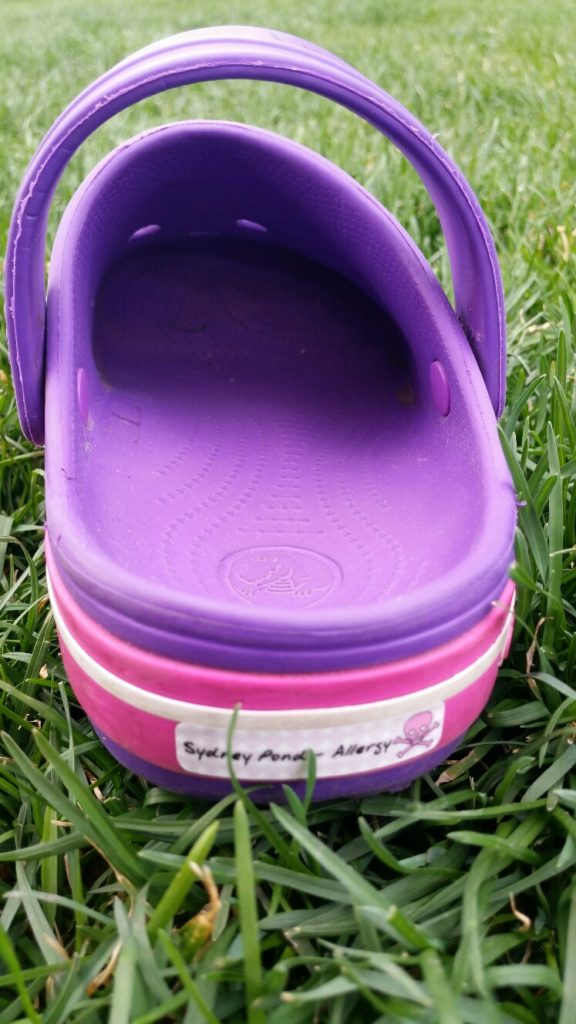 A little background on Emily Press Lables… Maureen McCartney, formerly of Robeez Footwear, launched this creative and super-cool product line in 2010 to help families stay organized and to ensure the kid-crap return home safely from school, camps, and ski trips. The labels are waterproof and dishwasher and laundry safe (microwaves to). They can be used on anything from shoes to luggage and though they're geared towards kids, I'm planning on getting some for my husband and myself. He needs them for his electronic junk and I need them for everything because, let's be honest, who doesn't want to compulsively label every item in their personal possession? Think mason jars and bins full of more junk. I love it.
One more cool thing about this company, is you can use them for fundraising. Goodbye stinky bingo hall, adios greasy butter-braids, and good riddance nasty cheese popcorn. This is an item I would gladly purchase and harbor no secret resentment towards the well-meaning child who sold them to me.
It's time to unleash your inner Type A and take control of the mountains of stuff in your house. Notebooks, jackets, bike helmets, flashlights, sippy cups… you can label almost anything! Go to Emily Press Labels and scope it out. I'll wager all of my Costco beach towels that you'll find something you need and love.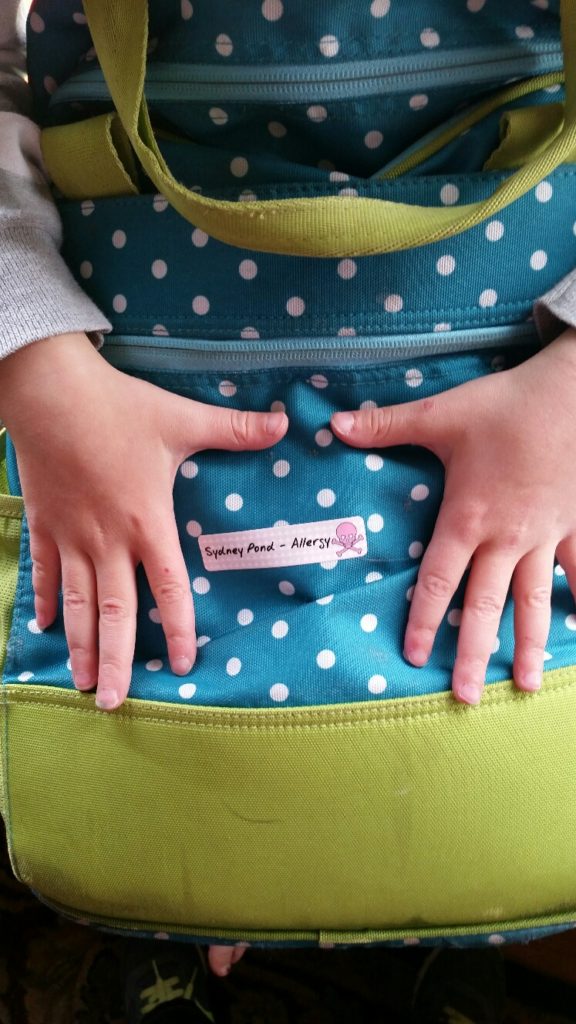 *While I received this product for free, these are my own opinions about the product.